One of the things I love about Smashwords is their constant drive to add reader- and author-friendly features. From their recent addition of a "Daily Sales" feature to their much-publicized deal with Scribd, Smashwords is always thinking ahead and moving forward.
One of the features they offer that I particularly like is the "Author Interview" option. There are two ways to access the interview screen.
It can be accessed through the Dashboard (red arrow). Apologies for the blurry screenshots; hopefully the arrows will help:

Or it can also be accessed through Account Management (red arrow):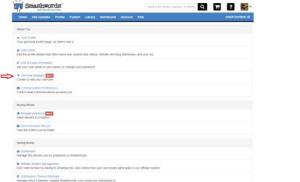 When you click the Interview Manager link, you'll be taken here: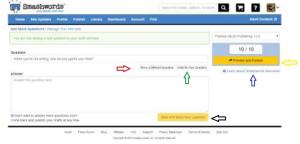 At this point, you'll be presented with a question. You can choose to answer that question in the box provided, or you can ask for another question (red arrow). If you prefer, you can bypass the Smashwords interview questions all together and write your own questions instead (green arrow).
Once you've completed your answer, click the Save and Show Next Question button (black arrow) and you'll be presented with a new question.
If you're interrupted before you finish, Smashwords will save your draft and you can come back and finish it at any time.
Once you're ready to publish, click the Preview and Publish button (yellow arrow). If changes need to be made, you can click back to the Interview Manager screen to make them before publishing.
If you have specific questions about the process, click the Learn About Smashwords Interviews link (blue arrow) to be taken to a FAQs page.
Once you've published the interview, it shows up on Smashwords like this: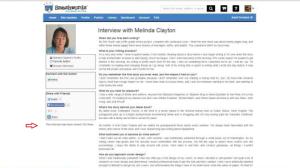 The left sidebar contains Facebook, Twitter, G+ and LinkedIn share buttons, and in small print under that you'll be able to see how many people have viewed your interview (red arrow).
All in all, the Smashwords Author Interview is a nice, fun way to gain exposure as an author without spamming friends with "Buy my book!" posts.