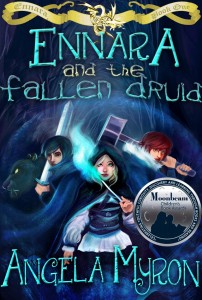 Eleven year-old Ennara Gaern's quiet life changes when one night she is attacked by a shadowy demon.
Tork, an old friend and wizard, informs Ennara's parents that she is her world's only hope of finding the legendary Sword of Gisilfrid, which is needed to destroy the curse that is creating the demons.
Ennara begins a perilous journey to the Sunken City, battling dangerous oceans and pirates intent on claiming her magic. With only her friends at her side, including the intelligent, aquatic cat Smoos, Ennara must defeat monsters guarding the sword and servants of the Fallen Druid.
Ennara and the Fallen Druid, the middle-grade fantasy adventure by Angela Myron, is available from Amazon.com, Amazon UK, Barnes & Noble, and other online booksellers.

Don't forget, you can cast your vote for trailer of the month on November 29, 2014 at 1 p.m. Pacific time.