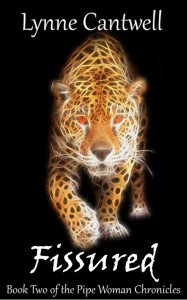 If anything can go wrong…
Naomi's having a bad week. She's already overwhelmed by setting up her solo mediation practice and second-guessing her relationship with Joseph. An old acquaintance seems to be setting up shop down the road from their friend Charlie's ranch. And Charlie has a new pal: a filmmaker who might be the Investigator – except that he doesn't exactly believe in teamwork.
Then a jaguar attacks her in downtown Denver….
Fissured: Book Two of the Pipe Woman Chronicles, the urban fantasy by Lynne Cantwell, is available on Amazon.com, Amazon UK, and Smashwords.

Don't forget, you can cast your vote for trailer of the month on October 25, 2014 at 1 p.m. Pacific time.