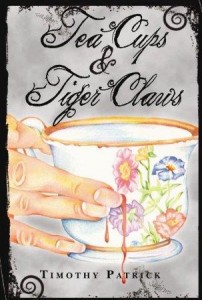 Tea Cups and Tiger Claws
by Timothy Patrick
Genres: literature, women's fiction, suspense
Available from Amazon
In 1916, the birth of identical triplets excites a small town. Soon the sisters are split up — two are sent to live in a mansion, and the third is abandoned in a work camp. Over the next 50 years, their lives will intersect in surprising ways. A fascinating novel about love, ambition, and the dark impulses of human nature.
Book Excerpt:
"And what do we have here?" came the low, sinister voice that sounded like bubbling sludge. Sarah struggled to her feet and saw Dorthea at the top of the canyon. Her gown sparkled in the firelight. "Of course it had to be you," said Dorthea, "because you're the little nothing who knows how to hang on. Your name isn't worth a line in the phone book, so you hang on to a better one. Your house isn't fit for a dog, so you hang on to Sunny Slope Manor." Dorthea pointed a gun at Sarah. "Fleas and ticks know how to hang on, but they still don't belong. And neither do you." She aimed and fired. Sarah saw the bright flash, heard the loud crack, and heard frightened screams coming from up at the house, but didn't feel any pain; nothing at all. The shot had missed. Dorthea pulled back the hammer and aimed again…
What others are saying:
"This is a smart and savvy novel that will draw readers in from its first page. I highly recommend it." – Kacunnin, Vine Voice, Top 500 Reviewer