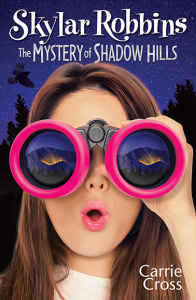 Skylar Robbins: The Mystery of Shadow Hills
by Carrie Cross
4.6 star average on 29 reviews
195 pages
Thirteen-year-old sleuth Skylar Robbins plans to become a private detective like her grandfather. Stuck at her bullying cousin Gwendolyn's Malibu estate for the summer, Skylar brings her detective kit, portable spy tools, and her journal for taking notes in secret code. She had no idea how dangerous the summer would prove to be.
On the first day of summer school an odd classmate named Kat passes a note in backward writing, introducing Skylar to the secret world of witchcraft. Practical Skylar didn't believe in magic  — until the spells they perform in an abandoned garden actually appear to be working.
When Kat tells her that a mysterious group is doing wicked things up in Shadow Hills at night, she can't help but investigate. The teen sleuth uses the tools in her detective kit and faces her most embarrassing fear to find the truth.
Skylar Robbins: The Mystery of Shadow Hills is available at Amazon.com, iTunes, and Amazon UK. Continue reading "Saturday Book Showcase: The Mystery of Shadow Hills"