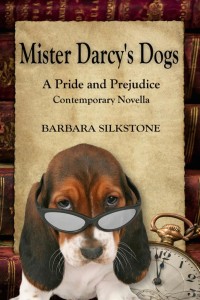 Mister Darcy's Dogs
by Barbara Silkstone
4.4 star average on 29 reviews
178 pages
Doctor Lizzie Bennet, struggling against her conservative English countryside upbringing, determines to prove her worth as a dog psychologist. Nothing will deter her from her career until she meets the uppity and oh-so mysterious Londoner, Mister Darcy. His on-again, off-again flirtatious manner and his pompous putdowns challenge Lizzie's short temper. When Mister Darcy hires her to train his lovable basset hounds for an important foxhunt, Lizzie accepts the task despite knowing next to nothing about the sport and harboring an intense fear of horses.
Will Lizzie keep her focus or succumb to her fate?
Mister Darcy's Dogs: A Pride and Prejudice Contemporary Novella is available from Amazon and Amazon UK. Continue reading "Saturday Book Showcase: Mister Darcy's Dogs"