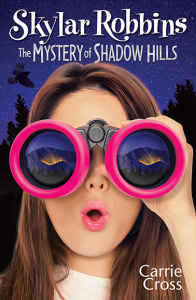 Skylar Robbins: The Mystery of Shadow Hills
by Carrie Cross
4.6 star average on 29 reviews
195 pages
Thirteen-year-old sleuth Skylar Robbins plans to become a private detective like her grandfather. Stuck at her bullying cousin Gwendolyn's Malibu estate for the summer, Skylar brings her detective kit, portable spy tools, and her journal for taking notes in secret code. She had no idea how dangerous the summer would prove to be.
On the first day of summer school an odd classmate named Kat passes a note in backward writing, introducing Skylar to the secret world of witchcraft. Practical Skylar didn't believe in magic  — until the spells they perform in an abandoned garden actually appear to be working.
When Kat tells her that a mysterious group is doing wicked things up in Shadow Hills at night, she can't help but investigate. The teen sleuth uses the tools in her detective kit and faces her most embarrassing fear to find the truth.
Skylar Robbins: The Mystery of Shadow Hills is available at Amazon.com, iTunes, and Amazon UK.
Excerpt from Skylar Robbins: The Mystery of Shadow Hills by Carrie Cross
"Good morning, class," Miss Yamato said softly as she passed out a sheet of instructions. "The purpose of your next project is to teach you to work creatively with others to achieve a goal. Your assignment is to design a special container and explain why it is perfect for its contents." Kat looked at me and grinned. She scribbled a quick backward note.
This is a great project!
I reached inside my art supplies bag and pulled out the oval stone I found in the forgotten garden. "Kat, look." Uncurling my fingers, I showed her the pink and gray rock sitting on my palm. I hoped she would remember telling me to find an oval stone and promising to help me turn it into an amulet. Kat took it from me and looked at both sides.
"This is perfect for your amulet." She handed it back and my heart thumped, wondering what we could do to make my stone powerful.
We got to spend the next ten minutes talking to our partners, trying to come up with creative ideas about our containers. I looked over at Andy's table. He'd partnered up with Rudy, who was talking excitedly and gesturing. The interpreter's fingers were flying. I wished I knew sign language — it looked so cool.
I also wished I had an idea for the project, but my mind was blank. At first, all I could think of were the old hatboxes in the slanted closet that hid my diary, and the locked case protecting the items in my detective kit. I looked around the room, trying to come up with something. A wall of white cupboards towered to my left and the chalkboard faced me. Miss Yamato sat at her desk, reading a textbook. The only windows were behind me. Across the room, the cute skater was trying to flirt with the girl with the big chest. She ignored him, texting someone with her cell hidden under her desk. Rudy Dean made a quick sketch in his pad and showed it to Andy, who smiled and nodded.
"I don't have any ideas yet," I admitted to Kat. "How about you?"
"I have a bunch of them," she said, leaning toward me. "We can decorate a special box for our amulets. We can go down to the beach and collect stones with different powers and weave a basket for them. We can embroider spirit pouches and fill them with herbs, feathers, incense, and seashells. We can use our leftover liquid lead and glass stain and decorate a candle holder with Wiccan symbols."
My new friend was amazing. "What's Wiccan?" I mouthed.
She looked around. No one was listening. "Witchcraft." She waited to see how I'd react, then continued. "I'll sleep over Saturday night and introduce you."
"OK. I'll ask. Introduce me to what?"
Kat looked at me. "Everything Wiccan. I know all about it. And I'll let you in."
A nervous tingle shot down my spine. My brain was spinning. I decided to put my plan to escape from Malibu on hold for now.