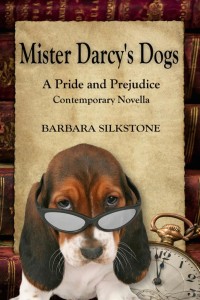 Mister Darcy's Dogs
by Barbara Silkstone
4.4 star average on 29 reviews
178 pages
Doctor Lizzie Bennet, struggling against her conservative English countryside upbringing, determines to prove her worth as a dog psychologist. Nothing will deter her from her career until she meets the uppity and oh-so mysterious Londoner, Mister Darcy. His on-again, off-again flirtatious manner and his pompous putdowns challenge Lizzie's short temper. When Mister Darcy hires her to train his lovable basset hounds for an important foxhunt, Lizzie accepts the task despite knowing next to nothing about the sport and harboring an intense fear of horses.
Will Lizzie keep her focus or succumb to her fate?
Mister Darcy's Dogs: A Pride and Prejudice Contemporary Novella is available from Amazon and Amazon UK.
Excerpt from Chapter Four of Mister Darcy's Dogs by Barbara Silkstone
William Darcy stood with the morning sunlight at his back, his features barely visible, but I would recognize his scent anywhere. It occurred to me I was spending way too much time with dogs. I sniffed, exhaled, and threw back my shoulders. As our eyes met, I flashed on last night's dream and felt a whimper build in my throat.
Sometime during the night Will Darcy had made a cameo appearance in my dream. I stood in a lush green meadow, the sun warm on my face. Mister Darcy bounded toward me in slow motion, his arms outstretched. Derby and Squire frolicked at his feet. He embraced me, lifting me high in his muscular arms, which I hadn't really noticed all that much yesterday. Not that much. He kissed my lips just hard enough to wake me.
Now I blushed as I recalled the tingly feelings from the tip of my nose to the nethermost point of my toes. With guilty pleasure, I licked my bottom lip. Cheese dreams. That's the last time I'll eat Blue Stilton before bed.
Darcy turned crimson. Good lord, don't tell me the man can read my mind. He looked over my head for an instant, an obvious diversion for him. With a noticeably deep sigh, he regained his broom-up-the-butt composure and hooded his eyes.
"I trust you have recovered from last evening's fiasco," he said, a rogue smile teasing at the corners of his mouth. Two dimples fought for notice on his cheeks. He was wearing a tight tan-colored t-shirt, wall-climbing harness, rock shoes, and manpris. His strapping calves looked yummy in the knee-length men's Capri pants. If he was headed for the Matterhorn, he had best reschedule. His presence was required at Elizabeth Bennet's School of Canine Manners.
I closed the gap between us with six firm steps. "Were Derby and Squire the cause of the entire Royal Albert uproar?"
He squirmed. "One could say they've been indulged. My butler Collins has a soft spot for them. He spoils them rotten. As a result they refused my commands and one bark led to another."
"But that doesn't account for their dislike of Caroline Bingley. What did she do to them?"
"Umm." The air once again turned chilly. "Miss Bingley features importantly in my future plans. The dogs must come to like her, no matter. Do you understand?"
I was about to snap a reply when I heard the sound of a door opening within the depths of the huge flat. The door noise was followed by the rapid scratch of nails on marble as Derby and Squire came running across the slippery floor and careened around a Louis XIV table, sending it into a shimmy.
Their stubby legs paddled and their nails scrabbled as Derby stepped on his own ear and tumbled into Squire, who rolled and then righted himself. The dogs skidded into my shins, almost knocking me over. Instinctively I grabbed Mister Darcy's forearm, feeling the electric crackle of a connection. Was I just tasered?
A short man with oily hair and the demeanor of a mole waddled after the dogs, calling their names. The bloke's close-set eyes and buckteeth gave me a shiver.
Darcy seemed to be recovering from the same taser. He rubbed his arm as he spoke. "This is Collins. He'll be your contact person for Derby and Squire." He nodded toward the mole-man.
I smiled a greeting but did not present my hand. Collins was a house servant, and it would have shown a lack of breeding on my part to shake his hand. Besides, who knew where those hands had been.
"No offense, Collins, but you will not be included in the hounds' training," I said as I stepped around the dogs and went nose to chest with Will Darcy. "In order to train Derby and Squire, I must also train their master. You will be involved in their training or I will not take your case."
Had I asked Mister Darcy to run naked through Trafalgar Square he couldn't have come up with a more startled expression. He turned paper white, and his mouth gaped like a fish that just swallowed a hook.