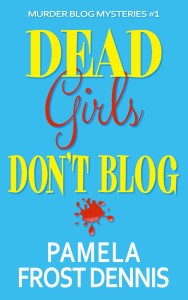 Dead Girls Don't Blog
by Pamela Frost Dennis
Genres: mystery, amateur sleuth
Word count: 81,240
Doing the right thing can get you killed…
After nursing her husband through cancer, and then getting dumped for a "pre-schooler", Katy McKenna is ready for a major life reboot. First on her agenda is to revive the graphic arts career she suspended several years ago to follow her was-band's dreams. Not easy in a down economy.
Her life takes a dramatic turn when she stumbles upon a newspaper story about an impending parole hearing for the man who raped and murdered her high school friend sixteen years ago. Sickened that he could soon be preying on other young girls, Katy sets out to make sure this doesn't happen, not realizing the imminent peril she's about to unleash upon herself.
Meanwhile, Grandma Ruby is hell-bent on finding Katy a hunky transition man and her BFF is nagging her to blog about her anger issues. Katy would rather shoot her ex, but jail time is not in her plans, so she's going to give it a try.
Dead Girls Don't Blog is available at Amazon.com and Amazon UK.
Pamela, how did you come up with the title for your book? Does it have any special meaning?
There's nothing deep or meaningful here. I wanted something short and easy to remember. The series is the Murder Blog Mysteries and the protagonist, Katy, nearly gets killed several times in Dead Girls Don't Blog. It's pretty tough to blog if you're dead..
Who was your favorite character and why?
I love my protagonist, Katy McKenna (I better, because I'm going to be spending lots of time with her as I write this series). But I would love to hang out with Grandma Ruby. She's a hoot.
Does your book have any underlying theme, message, or moral?
Doing the right thing. Being a Good Samaritan. Even if it means stepping out of your comfort zone. Dead Girls Don't Blog is based on a personal experience — that became very dangerous.
What would/could a reader or reviewer say about this book that shows they "get" you as an author?
My readers have told me they can relate to my protagonist's trials and tribulations, and can say, "been there and done that". Some days we laugh and others we cry. I hope by blending the tragic and the humor, it will create a bond between my readers and me.
Give us an excerpted quote from your favorite review of this book:
"I usually never write reviews on books but I just have to say that I truly loved this book. Some serious parts, great humorous parts…it has everything…Simply enjoyable."
Where can people learn more about your writing?
http://pamelafrostdennis.com/