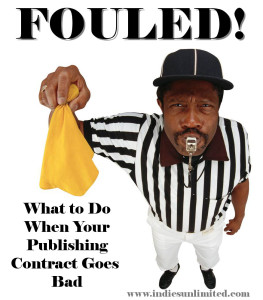 I've known for a while now that Indies Unlimited planned a month of posts regarding bad publishers. Some know my story, but not most. I'm under a "gag" order, you see. The specific words of my termination contract were:  "In addition, the author agrees not to discuss the Author's Group or any information from that group, or discuss [redacted], nor speak as an agent or former agent of the publisher, either by verbal, written, or electronic communication with any persons, groups, or agents, either publicly or unsolicited, and [redacted] will adhere to the same standard. [Bolding mine.]
And I haven't, not in nearly two years.
Of course, it also says: "The publisher will pay all royalties due the author or accruing through miscellaneous sales from said third-parties during regular royalty periods, through US Mail, should the amount be $25.00 or greater. [It was quite a substantial amount "greater," and that even according to emails from the publisher.] Should the monies be less than $25.00, amount will accrue to the next period at which time a close out payment including said funds shall be paid during payout for that period."
Well, THAT never happened. So while I assume many of the terms of our termination contract are null and void for many of the same reasons our previous contract was null and void (namely, they didn't uphold their portion of the contract), I'm still cautious, even though "unsolicited" has often gone out the window and I'm peripherally aware that they seem to have breached the "will adhere to the same standard" clause.
So here we are. Now what? Well, I'm going to discuss ways for authors to protect themselves, hopefully before reaching the "termination agreement" stage.
Believe it or not, at the time I sent my previous publisher my request to terminate contracts, I didn't know much of what had actually happened. I sent my termination letter because I suspected they wouldn't be able to pay me in the future. This was based on emailed conversations I'd had with them over the nearly three years I was with them. I felt sorry for them and the obstacles they faced, but realized I needed to protect myself – and my books. So, I sent a termination letter that said basically that.
At that time, I didn't realize the copyright for my books had never been filed, nor did I realize the paperback versions of my books were only on Amazon. At that time, CreateSpace charged a $25 fee for Expanded Distribution. If that fee wasn't paid, the book was only available on Amazon. And that's where mine were.
So for the newbies out there:
Did your contract state the copyright would be registered? Is it? Check here:   http://www.copyright.gov/records/
Did your contract state the book would be published and available in "all major stores?" Check here to see if it is: http://www.gettextbooks.com/ Make sure to check "new" copies, not "used," because used will show up everywhere.
Is your publisher telling you your books aren't selling? Try checking NovelRank.
But this comes with a major caveat. Novelrank doesn't catch all sales. The more a book sells, the less accurate their algorithm is. For example, during a recent promotion for one of my books, Novelrank had the book at fewer than 50 sales with an asterisk that detailed sales may be significantly higher. They were, at over 200. Just keep that in mind.
I previously wrote a post on scammer warning signs, and our own Evil Mastermind wrote a detailed one on How to Spot a Scam. Those were to help authors refrain from signing in the first place. If you missed that and now find yourself wondering if you need to terminate, hopefully this post, and the others we're running this month as part of our #PublishingFoul series, will help.