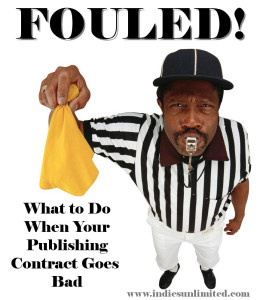 Guest Post
by Anonymous
I can't reveal who I am or the name of the publisher with whom I'm in a dispute, but I will say this: if there is anything on the internet that warns you about a publisher, steer clear of them. Don't sign with a publisher who says you don't need an agent. Don't sign with a publisher who tells you that you don't need membership in your genre's professional writers' organization. And don't sign with a publisher if you see them acting less than professionally on any public forum, anywhere, at any time in the past or present.
I wish I had paid attention to these red flags. My publisher displayed all of them, but fellow writers told me this publisher took good care of its authors, so I ignored the red flags and signed a multiple-book contract.
It didn't take long to regret it.
My books were published in editions saddled with blurry covers and riddled with typos, inferior in every way to what I can and have produced as a successful self-publisher. The biggest grievance, however, is that I was never, ever paid. In fact, the publisher owes me more than a year's worth of royalties. I actually don't even know the exact amount owed me, because the publisher has so far failed to give a complete accounting. What royalty statements they did provide are incomplete and fail to account for entire months. Interestingly, those were months when sales were up – as a self-publisher, I have a pretty good idea of how Amazon rankings translate into sales numbers.
I hired a reputable lawyer from a respected local law firm, who looked over my contract, looked over the publisher's emails, and quickly came to the considered opinion that the publisher was in material breach of contract. The publisher's response to the standard demand letter my attorney sent, however, was long, childish, and rude. While it did revert my book rights, the counter-demand a) insulted me personally and professionally; b) ordered my lawyer to cease and desist representing me in this matter; c) issued a vague suggestion that they could release galleys of my books into the public domain; and finally, d) assessed a fraudulent termination fee substantially greater than the amount of money they owe me, which included a 10% cut of the royalties they never paid me.
Ten percent of nothing is still nothing.
It made my lawyer laugh and advise me to ignore it, since we had achieved our primary goal, return of my rights. The absurd missive had obviously never seen the light under an attorney's eyes before it reached my lawyer's desk, and if the publisher didn't care enough to hire a lawyer, it wasn't worth a response. However, a few months later, I received another rude and childish letter from the publisher, threatening to send a debt collection agency after me if I did not immediately pay that aforesaid fraudulent termination fee.
Yes, the publisher kept every penny of my royalties AND threatened me with a debt collection agency to try to get even more money out of me. Reputable publishers do not behave this way.
And I'm not the only author this publisher has stiffed; I know of at least three others. In at least one case, the publisher attempted to silence the unhappy author with threats to sue if he/she went public about the fact that this publisher doesn't pay. A Google search turns up little to indicate they might not be on the up-and-up, and people treat them like a respectable business – while they selectively pay some of their authors but not others (as in a Ponzi scheme, the ones whose royalties are used to pay others never get paid themselves).
Hence my warning: be very, very careful if you get an offer from a small press. No matter how desperate you are to be published, if there are any warning signs at all, turn them down and look elsewhere. Even the faintest red flag could prove to be the tip of a titanic iceberg of author abuse and unprofessional behavior.
I will, from now on, be taking my own advice.
---
Anonymous is an award-winning and bestselling author who hopes that one day, this story will be told using his/her real name. Meanwhile, he/she desperately wants to warn other authors that even if people are telling you a small press is reputable, it may not be.