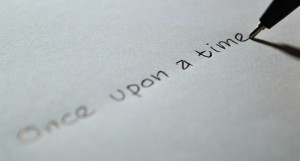 Short stories are everywhere, but how do you know if you should be taking time away from your novel to hammer out a couple of short fiction pieces? For the most part, short stories are not very lucrative. If you've published a couple of novels, it might even be harder to look at short stories as the best use of your time.
If you're on the fence, here are a few reasons you might want to consider adding short stories to your repertoire.
1.     You love them. Yes, if you love to write short stories, then do it. You don't have to feel guilty about the novel collecting dust. After all, writing is a passion and you need to follow your path.
2.     Intellectual Property. When you publish a short story, you create intellectual property. Maybe you have an idea that you want to get on paper but don't have the full story yet. Whether it's a character, place or concept, you can establish your intellectual property by publishing a story surrounding your idea. This gives you something more than an idea to pitch to agents, publishers, video game makers … you get my drift.
3.     Experimentation. It takes time … a lot of time … to write a novel. If you have a new idea and you're not sure how it will fly, you can always write a short story to test your concept. Within weeks, you can have a finished product that might have some legs.
4.     Crossover. Does your audience know you as a Young Adult, Romance, or SciFi author? How do you break out of that mold if you have other ideas? Short stories give you an opportunity to test your writing chops in other genres, to build a base of fans that will help you when you're ready to tell the world that you are a horror writer, too!
5.      Collections. When you've written enough short stories (Captain Obvious here) you can turn it into a book. Indies Unlimited helps authors come together with its flash fiction anthologies. You can find the latest, The 2014 Flash Fiction Anthology here. Now you get to piggyback on the work of some great, bestselling authors. The exposure for you is priceless.
6.     Dollars. Yes, you can actually earn money with short stories. Just ask Hugh Howey. With all his success, he still earns royalties on published short stories.
7.     Engagement. Short stories are a great way to stay engaged with your fans between novels. Your short story could be a side story to a previous novel or an "origins" story that links to a character in your novels.
8.     Rut Breaker. Are you in a rut? Having trouble moving your novel along? Try jumping into a short story about something completely different from the subject you're stuck on. The act of writing is sometimes all you need to get your groove back.
9.     Loss Leader. Many people hate the idea of giving a novel away for free. They have less of a problem doing so with a short story. Why not make a short story permafree to open the door to new readers?
10.   Backlist Expansion. If you've only got a couple of books on your backlist and it's going to be a while longer before you can get your next novel out, turning out a couple of short stories could make your author resume look a lot fuller.
and a bonus….
11.   Contests. Many ezines, magazines, and anthologies have contests rewarding the winners with publication, and sometimes – even cash prizes. Having a couple of short stories ready to go could give you some material if one of these opportunities arise. (At IU, we run free contest posts every Monday morning – see if one fits your stories.)
Writing short stories is not a short cut to writing. It's important to consider that a short story incorporates the same story development as a novel. A good short story generates feelings in the reader and that don't happen without good character development, plot points, and consequences based on actions.
We all know that writing is a head game. Short stories are a great way to keep your head in the right place. Whether you publish or not, short stories give you those small victories when times are tough, when the flow isn't happening. Nothing feels better that finishing a story. Use short stories to your advantage to keep the positive flow during those long writing droughts.
How do short stories play a role in your writing career?