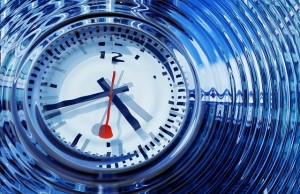 I've been publishing for just under three years now, so although not a grizzled veteran of the publishing wars, I'm not a noob, either. Like most of us, I hang out in a lot of the places writers gather: internet message boards, Facebook groups, LinkedIn groups, Google+ groups, etc. It seems inevitable, when I meet someone who is new to self-publishing, that I get some version of this speech: "You were lucky. You got in while "free" was still a goldmine/when reviews were easier to get/when the competition wasn't so tough."
I don't feel defensive when I hear that, because, maybe they're right. Maybe, if I was launching my first book into today's climate, I would struggle mightily to get any traction at all. The more I thought about it, the more I wondered — what would I do if I was starting completely over?
Some things I would do exactly the same. I hired a professional editor, proofreader, cover designer, and formatter right from the beginning. My writing may not have been my best, but, aside from Harper Lee, who produces a masterpiece their first time up to the plate? Having these pros on my side gave me a leg up over many of the unedited, unproofread books with covers that were done in the Createspace cover creator.
So, with the best product I was capable of creating, what would I do next? The first thing is, I wouldn't worry about making money with it. How's that for a recipe for success? Spend lots on a pro support team, then don't worry about making any of it back. Yeah, I lose money on every book, but I make up for it in volume. *cue rimshot*
Here's what I would do, step-by-step.
Build a platform. I would use that first book as a calling card to begin building my platform. Heck, I would be tempted to make it permafree, just to remove any barrier to access my writing, while I worked hard on getting more product out there. The biggest thing I would do would be to get my mailing list going on day one. I had given away 100,000 books before I figured that out the first time. That's a lot of lost opportunities. I would sign up with Mailchimp or AWeber, then put links to my New Release Alert List at the front and back of that first book. Every name I get on that list early on will help me be more successful down the road.
I'd start my Street Team immediately. One of the biggest advantages I have right now is that I have readers who will leave reviews right after I release something new. That offers not only social proof, but also gives me options to promote the book while it is a New Release, taking full advantage of algorithms during the 30-Day Cliff. I would work immediately on finding a few ARC readers that I can begin building into my street team. Someone writes me an email or sends me a FB message, telling me they loved a story? I would fire back with the opportunity to get in on the ground floor of my street team.
Consider Writing Shorter. I would also try writing shorter after that first full-length book. I am not a quick writer, so I do well to get two full-length books out in a year. I'd like my Amazon Author Page to look a little less forlorn, though, so I would write some short stories and novellas to fill it up. I essentially did that last year and released seven shorter titles. When someone hit my Amazon page, I looked like a busy, full-time author. Also, by sending out newsletters to my mailing list that often, I stayed top-of-consciousness in my reader's minds, not to mention that the Amazon algorithms seem to benefit those who publish more often.
Would I use Select? This seems to be the question most beginning self-pubbers struggle with the most. I'm not sure it matters. Instead, what does matter is that I take advantage of whichever direction I go. If I go wide, then I need to promote links on my website, blog, and Facebook, to Kobo, iBooks, Nook, etc., and not just Amazon. On the other hand, if I go into Select, I'm going to focus on using my free days to build my presence there until I'm ready to spread my wings.
Would I write a series? Probably not right off the bat. If I do, and that series tanks, I've got an awful lot of my resources and time tied up to an anchor that's dragging me down. Series are a wonderful vehicle, but beyond making the first in the series permafree, each new entry is often limited to people who read your first book. I think series are the key to becoming a full-time writer (says the man who doesn't have an ongoing series at the moment) but I think it's better to get your feet wet first.
Stay Nimble. More than anything, I would read, study, and be ready to change directions at a moment's notice. In my few years in the biz, I've seen Select come into the marketplace, become the holy grail, lose effectiveness, gain some back, then lose it again. A little startup promo site called Bookbub gave away free slots, then became popular, then became almost impossible to get into. Running Facebook ads appears to be the next possible promotional wave, but if you think that is a permanent solution, you haven't been paying attention. Something new is always on the horizon. As indies, that's our great advantage. Changing ideas in traditional publishing is like turning the Titanic. You can spin the wheel, but it's gonna be a long time before the direction changes. I can change promo strategies, pricing, release schedules, cover styles, genres, whenever I want. I would be nimble — especially if I was starting over.
What would you do differently?