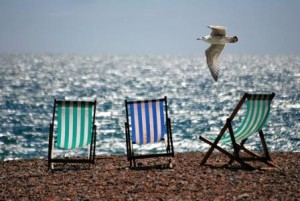 The sun is shining, the kids are out of school, people are on vacation, and you are … inside writing. Cue the scratch on the soundtrack. That doesn't sound right, does it?
In summer time, many folks, me included, find it harder to hunker down and get the business of writing done. There's the distraction of the weather. Sunny days tend to call you outside to the pool, to a hike, or even just a walk down the street. There are also barbecues, family vacations, and just a general laid-back attitude.
So, how does one overcome the distraction and sit down and get their writing life in order?
Tip 1 – Prioritize. Time and attention are going to be limited when we've got a bunch of activities we could be doing. So, prioritize the activities that you want to get done. In summer, there's just too much going on for us to accomplish every activity (fun or not fun) we want to do. Therefore, for the summer, figure out what your top goals are. You may want to set up your priorities for the entire summer, but you should also set up weekly priorities. That way, when you sit down to work, you can focus on those activities you really want to get done, whether that be writing something new, editing something you've written, or something else.
Tip 2 – Schedule it. While we tend to be more rigid at other times of the year, when summer comes, we're often in a go with the flow mood. The kids aren't in school. On any given day, at least a quarter of the office staff is out because they're on vacation. It just seems like a lax time, so we're in the mood to just let things go. This is why we get less done. If you want to ensure your writing doesn't get lax in the summer, schedule it in, the same way you schedule in a car appointment or a trip to the grocery store. Don't just tell yourself you'll do it. Actually stick it in the calendar. If you have a spouse like mine, you should put it in the calendar you share with the spouse. My husband says it's not a legitimate event he has to recognize unless it's in calendar.
Tip 3. Use your outdoor time to get inspired. Let's face it. The weather is nice, and we're going out more — to the beach, to play tennis with a friend, a pickup game of basketball, gardening. Use your outdoor time as inspiration. While you're out playing, let your mind catalog a thought or two about what you might write when you get back to your laptop.
Tip 4. Be Realistic. Summer is when people go on vacations, so if you're going on vacation, figure out what you realistically want to and can accomplish. For some people, going on vacation means they do nothing with their writing life. For others, vacation is time away from the 9-to-5 job, and a time to ramp up their writing. Whichever way you swing, be realistic about what you plan to do on vacation. If it's nothing, that's fine. If it's a writing juggernaut, that's fine, too. Just be clear and stick with the plan.