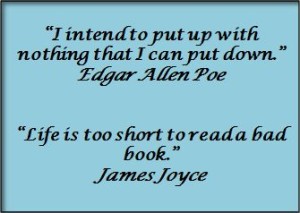 I need convincing. I need convincing that it's worth my while continuing to read books by independent authors.
Before you start shouting, 'Defector, defector', hear me out, please.
My Kindle has been one of my favourite purchases (I pretty much take my Kindle everywhere). It's up there with my ice-cream maker (seriously, home-made ice cream is to die for, seriously), my MX5 (oh, I'm so in love with my car) and my latest bicycle (yes, I'm the female version of a MAMIL).
My first task upon receipt of my beloved Kindle was to download books onto it. Where to look? Amazon, of course, but via Facebook friends, I found some interesting book groups: groups frequented by independent authors, who, I discovered, were keen to give readers free copies of books in return for an honest review. Excellent! It wasn't the free books that attracted me, I hasten to add (by this time I had, in fact, gone slightly beserk on Amazon, and my bill that first month of Kindle ownership was a bit…ahem…and caused raised eyebrows and dropped jaws on Mr S) but avenues leading to a source of potentially good books.
And so started my book-reviewing journey. Which has — for the most part — been an extremely enjoyable one. Yes, there have been some bumpy roads and some catastrophic wrong turns, but on the whole, it's been a wonderful ride. I felt, and still very much feel, very privileged to be considered to review an author's work.
BUT my journey's road is getting uncomfortably rocky. So…what? Aren't the books that great anymore? Oh, yes, they are. I'll even go so far as to say that the quality of writing gets better and better. If I had to choose my favourite book this year, I'd be very hard pressed to select one. There are quite a few jostling for pole position.
What's getting me down…again, alas again…is the quality of editing. It's an unbalanced scale: while the quality of the writing and stories goes up, the standard of editing goes down. Of those many books competing to get my book-of-the-year award, there are, depressingly, very, very few that would get an award for editing excellence.  Or even get past first base.
And that's Just. Not. Good. Enough. Sorry, but there it is.
It all starts so promisingly: the first page has me hooked, I'm already liking the main characters(s), the author's style is punchy, readable, original, and then the lead balloon falls. Oh no. No, no, no. Spelling errors, bad punctuation, missing words. Aaargh! I now start each book, not with, 'Ooooh, this looks good, can't wait to get into this one', but with, '*Sigh*, I hope the editing's better in this one'. I don't want to be saying this at the start of every book. I shouldn't have to be saying this at the start of every book. And the thought now getting very comfortable in my mind is, 'If this is yet another editing fiasco, that's it, Indies No More'.
I've 'virtually' bumped into a number of readers lately, who have confessed they've taken a break from reading books by indies and taken a little holiday in trad-pubbed land. That's not what the independent community wants. Indies want readers, followers, fans, and they want them to hang around.
I read an interesting little book, recently, called Slicing the Hype by Michal Stawicki. It's a short 'how-to' book — how to spot the genuine indie-author book. Mainly applicable to non-fiction, there are pointers to fiction as well. The author's aim is to help you identify which books are worth reading before you buy, download and ultimately end up throwing your Kindle at the wall in frustration. Aimed principally at the reader, I think some authors would find plenty of advice in this book: they may actually find out why their books aren't selling or are getting poor reviews. Authors write because they love to write and love their books being read…and enjoyed. So they need readers; they desperately need readers. The more the merrier. It's not enough to attract them with glossy covers. Stawicki maintains that the first ten percent of the book will reveal a lot about the quality of the book, especially that of editing. Amazon's 'Look Inside' facility provides the opportunity to examine those first few pages. If the author doesn't make an impression in that initial ten percent, that's it: curtains.
Yes, okay, okay, I'm being a little over-dramatic. Of course I shall continue to support the indie community. I've got an Everest-high mountain of books to review. And most importantly, I do really, really enjoy them.
Please, please, please, authors: edit, edit, edit. Or more specifically, find a good editor. Neighbour, brother, sister, darling husband or wife are not suitable candidates. Nor are you. You can't edit your own books.
So…authors, reader, reviewers…perhaps it's not conviction I need. I think I've managed to persuade myself that I'm just having a funny five minutes. But…a little buffer wouldn't go amiss.
Am I alone here? Do you get, or have you become, equally frustrated?