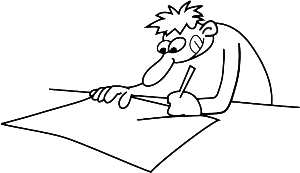 This is an ongoing series about BigAl's first experience writing a book. Join him as he flies by the seat of his pants and figures things out as he goes. For a more complete explanation about the book and this series of posts, you can read the series introduction here.
In this installment I'm going to look at my publishing choices.
How to Publish
Indies Unlimited aims to help all authors, but the indies part of the name is a clue to our bias. All the minion authors are self-published or published by small presses. Some have been published by large publishers in the past while many (most?) haven't. But the lure of the "bigtime" is still there for some. Around the gruel cauldron a few weeks ago one of the minions mentioned that he or she was considering taking a run at the big publishers with their next book. The looks of shock were over the top and I finally understood what the term deafening silence meant. I was the least qualified person there to comment, but finally, to break the tension, I responded.
In what promises to be a post a bit on the long side, here's a slightly edited version of my response. For many of you none of this will be new, but since this series is aimed at novices, it will be for them.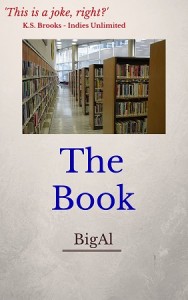 ARE YOU KIDDING???
My Decision
I'll point out that most of the minions have points of view that are skewed one direction. In this discussion, self-publishing versus trad publishing through a large house, I think the right answer for an author depends on their goals. (A small "indie" publisher is in the middle and in many ways is the worst of both worlds, yet is sometimes the best choice, too.) Here comes a bunch of stuff to consider.
You can't choose traditional publishing, they have to choose you.
The vast majority of authors who pursue the traditionally publishing path will never be published.
As I said, the right decision is going to be based on your goals. The main ones I see mentioned are: To be read by as many people as possible; To make money – hopefully oodles, and validation – to have people agree that you're a good writer.
Odds are against you with either route. The average number of any particular book sold is in the hundreds, or possibly low thousands. The average is going to be higher for a trad pubbed book, but not that much higher. In my opinion, not high enough to make up for the chances of the book never making it to publication.
Odds are against making significant money with either route. Each way you have expenses to be recouped before you're actually profitable. This is one area where self-publishing can be an issue, that even operating on a shoestring there are some things you can't do yourself (depending on skills) and some things you shouldn't. However, with self-publishing you're seeing revenue much sooner whereas with traditional publishing, the odds of making it to publication are so slim that you can't depend on ever seeing any money for your efforts. The amount received per book is much higher with self-publishing.
Which is more important, to be validated by an agent and publishing professionals (who I'll point out are making their decisions based on marketability more than anything else, so Snooki has an advantage over you) or by readers?
Traditional publishing has a slightly better high side. Chances of becoming the next Nora Roberts or James Patterson are higher taking the traditional route. But the odds of that are extremely slim as are the odds of becoming the next Hugh Howey. There are a lot of authors who have been traditionally published and then gone indie. There are also lots of stories of those who have gone the other way. I can name several authors who started self publishing and then got a traditional contract. However, I can't name any who think that was the right move *except* if they're prolific and a hybrid author (one who publishes books both ways) where they consider the books they traditionally publish as loss leaders for the slight increase in discoverability their self-published books get due to their traditional books being more widely available.
The one thing traditional publishers excel in is the ability to get your book into brick and mortar bookstores. Many say as an indie you can't. The reality is that you can to some extent, but the effort to do so might not be worth the return. However, odds of having your first trad pubbed book placed cover-out on the shelves or in stacks at the front door are slim. For that chance and the slimmer chance of getting more marketing push (most books don't get much more than a page in that season's catalog for bookstore buyers to glance at) you're giving up a lot. Not only in terms of the percentage of the selling price, but in rights to the book which could be tied up long past your demise.
A traditionally published book has about six weeks to find its audience before it gets pulled from bookstores if the sales aren't there. An indie published book has forever to find its audience. (To be fair, the trad pubbed book will be "in print" and available online, so it may be on an equal footing at Amazon and other online retailers, but with the financial disadvantage of making a lot less for each copy sold.) I also pointed out that the distribution where traditional publishing has an advantage is becoming less valuable as the available shelf space in physical stores decreases and that a large portion of the most avid readers have started reading eBooks as their preferred format.
Since this series is supposed to be about the book I'm writing, I'll mention that I never considered anything other than self-publishing. Some of the reasons above apply, but in my case the bigger factors are the market for my book. Its audience is a small niche. As I mentioned in an earlier post in the series, that presents some marketing challenges. I think it would also limit me to smaller, specialty presses, unlike novels aimed at a broad audience. Plus, I don't like to court rejection. If I self-publish, my publisher has already accepted the book on spec. Now I just need to deliver.