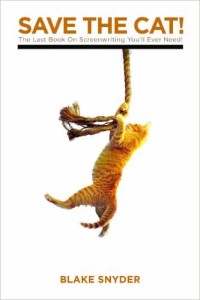 Storyboarding is a plotting technique used by screenwriters, but it's also popular with some novelists. I like it since I'm a planner, not a pantser. Storyboarding is not a rigid plotting device. The whole point of the board is that it's flexible. The greatest advantage is seeing exactly how your novel is "built," just as an architect refers to a blueprint.
Now, I realize that some purists eschew structuring their work according to a storyboard. That is fine for those who wish to write Litrachure. But as popular Victorian novelist Wilkie Collins once said, "I have always held the old-fashioned opinion that the primary object of a work of fiction should be to tell a story." I feel the same way, and I don't think storyboarding need adversely affect good writing.
I'm indebted to a former mentor who introduced me to the three-act structure most fiction writers are familiar with. She also recommended the late Blake Snyder's book, Save The Cat! The Last Book on Screenwriting You'll Ever Need, which opened my eyes to storyboarding. Adapting the screenwriter's storyboard for film to plotting a novel is easy. The way to use the board is to write the cards and then flesh them out into scenes in a manuscript. I'm so used to this method now that it's difficult for me to write scenes without having a stack of scene cards in front of me.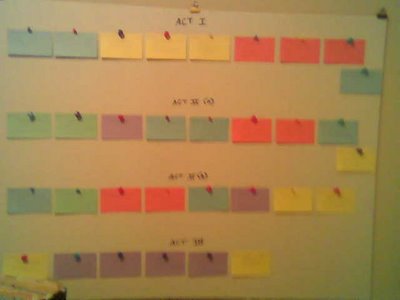 To make a board, I use a triptych from the office supply store. I clamp three small binder clips to the top and then hang the board flat on the wall with three small nails. When I'm done with the board, the binder clips can be removed and the board is folded up and stored away, with or without the cards. I've found it useful to keep the cards on there as a show-and-tell object for book club presentations. Readers love to see "how you did it." If you prefer to remove the cards, you can reuse the board for your next book. Here's The Earthquake Doll storyboard (my Japanese post-war historical), with pushpins removed (so the board can be folded flat) and the cards permanently taped down: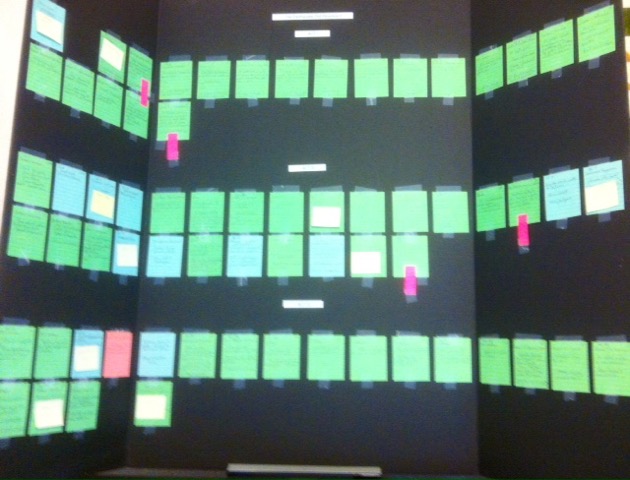 Unfortunately, sticky notes don't work for this because they fall off. I've even tried it with the newer, stickier ones. Besides, the notes tend to curl over time. I tried the index card with sticky tops, but those fall off, too. Pushpins rule.
In Save The Cat!, Snyder calls plot points "beats," and there are fifteen of them in a story. For more information on that, the Blake Snyder Beat Sheet (BS2) is explained in detail here. By using storyboarding, I could order scenes according to the BS2. Moving a certain scene closer to the beginning of the book meant rearranging my story's timeline, which in turn messed up all my season-sensitive farming details. All I had to do was change springtime crops to those grown in early autumn in Hokkaido. In fact, it was simple to make any changes needed throughout the book, timeline or plotline, because I could actually see what needed to happen. It was so much easier than scrolling up and down the manuscript on my laptop, and getting hopelessly lost and confused.
In screenwriting, you'd need 40 cards to cover a 110-page script. Your novel could have anywhere from 300-900 or more pages. The main thing is to plan the major plot point scenes. Then write the scene cards leading up to each plot point. Write the cards for the scenes that will come after that, leading up to the next plot point, and so on. On each card, just jot down the basic point of the scene you're going to write.
You don't have to write one scene per card. That could take several boards! You could jot related scenes on one card. Or you could group related cards and pin them together. Some people write the cards in Word and print them out. I jot what's needed in pencil, note the chapter number at the top, and later, the page number of the draft (making ms revisions easy.) Here's an example of what I wrote on a card for The Earthquake Doll:
(Ch. 14)
Village lane & shrine
[backstory]
Prayers for father
* what would Father think
of her, working for Americans?
The card refers to several scenes: the arrival from the city, the walk down the village lane (with autumnal crops in view) where some backstory is revealed, then to the village shrine where prayers are said for the Main Character's father. That's followed by an emotional scene when the MC asks her mother what her father, who fought and died in the war, would have thought of her now, working for an American family.
Is storyboarding for you? Lots of writers use some version of it, whether it's a detailed formula with a three-act structure like Melissa Pearl, or just a chapter-tracking spreadsheet. What works for you?
P.S. – "Save the cat" is a screenwriting term. Early in the film, our hero, the MC, should do something equivalent to saving a cat to gain our admiration. Here's to saving cats and storyboarding!