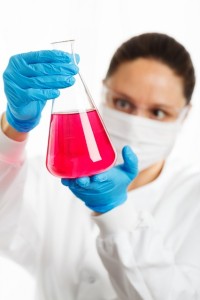 The idea of formulas in writing always makes my nose wrinkle. Because to me, formula means repetition…and repetition in writing could very well lead to boredom. Have you ever had that? Followed an author you've loved for years only to find that by their tenth or fifteenth book you can finish it for them, because you already know how they roll and what they're going to do with their characters?
That always frustrates me, and as a writer I have tried my very best not to fall into this trap. That's partly why I write in a variety of genres. I never want to be thought of as the author who regurgitates the same old stuff.
But the truth is…there are formulas in writing and whether we like that fact or not, we must accept it, because the right formula can make for a brilliant book, just like the wrong formula can make for pages of drivel.
So, what is the right formula?
Well, I'm not saying there's just one, but there are two formulas that I repeat in every novel: good character profiling and solid story structure.
Now, pantsers may disagree with me here, but for me, I need to know my characters really well and basically have the story written in my brain before I can write the first line. If I take the time to do this, writing the first draft is a breeze.
Let's talk about character development first.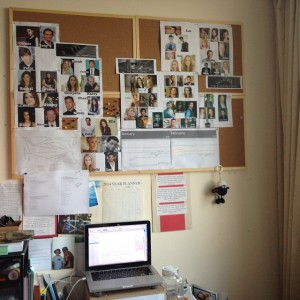 I have a process when writing, and the first thing I start with is character profiling. I answer an intensive interview questionnaire for my main characters and a slightly smaller version for my minor characters. I find pictures of actors who could play the roles of my characters and post them on my writing wall. I like to do this because it helps me figure out how they move and talk. It helps me create a sense of who they are before I start writing. Sometimes little details change, but the backbone of who they are is developed during this process and more often than not, story threads are developed during this phase. A character's backstory has huge influence over how they behave. Knowing this stuff before I start writing helps me create a full picture and I never have to stop and think about how my character will react in a situation, because I already know how they'll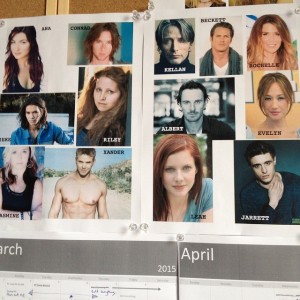 react. It's through character profiling that you find your character's true voice: a vital element in any story, no matter what point of view you're writing from.
Once I know who my characters are — their flaws, strengths, weaknesses and desires, I can now work on my story structure. I'm a firm believer that every book should have some form of character growth and having profiled my main characters thoroughly, I can then go through and make sure the plot allows for this growth.
I think of story structure like the foundations of a house. There are fundamental principles that work when constructing a house otherwise it will collapse. The same applies to stories. Having a formula for good structure allows you to create a book that will suck your readers in and they won't be able to let go until they've reached the end.
So, what is good structure?
Well, I've studied a variety of books and most of them say the same thing, but Story by Robert McKee and The Writer's Journey by Christopher Vogler were the two that I found most helpful. They are thick, intense books containing pure gold on structure and substance. Between these two masterminds, I have created a planning formula that helps me construct my books, and although it can be a little tedious, I force myself to take the time to do this…and I never regret it.
Before I start writing chapter one, I do some seriously thorough planning. Sometimes these plans will deviate a little, but eighty percent of my first draft sticks within the original plan and makes my editing process a million times faster. I hardly ever have to delete chapters or do major rewrites, because all of that happens during my planning stages.
My formula is based on a three-act structure, which takes characters from their original world and sets them on a journey that will involve at least three crisis points. Each crisis point is worse than the one before, leading to the ultimate point where they make their final, big character shift and come out the other side having learned and become better people. The measure of growth depends on the type of journey they take and the type of genre you write in, but in order for a character to grow, a journey must be taken.
Once I have my skeletal structure in place, I then take things a step further and break my outline down into three acts, to make sure my flow works and the story builds at the right pace. If you watch any movie or analyze some of your favorite books, you will see the three-act structure. It is used all the time, because it works.
After my acts are set in place, I then divide those into sequences, which then get divided into individual scenes. For each scene, I write a paragraph, sometimes including chunks of dialogue that have come to me. Beneath my description, I also include my character's motivation and any subtext that may be going on. The reader doesn't need to know all the inner workings of your character, but you do, because this needs to subtly come through in your writing so that your characters become real people that readers can relate to. I also include if the scene is going from a negative to positive tone or vice versa, because you want the book to be like a roller coaster ride. You can't have scene after scene after scene of positivity and the same goes the other way. Ups and downs and intrigues are what keep the reader flipping the pages.
So there you have it, that's my formula in a nutshell. Do you have any go-to formulas when it comes to writing?