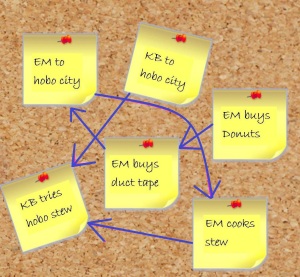 Ever be cranking along on your work-in-progress (WIP) without a care and suddenly realize that your timeline is all discombobulated? Juggling numerous characters with a different point of view (POV) in each chapter has finally caught up with you. Don't you hate it when that happens? I know I do.
This kind of thing is bound to occur, especially if you have characters who whisk off to far-away lands – which means you need to incorporate the gaps created by lengthy air travel as well as time zone changes. What a mess!
Here's a handy little tip for you which costs nothing. In fact, it's so simple that it may strike you as stupid initially, but sometimes simplifying is exactly what's needed when a project goes out of control.
Not only will this help you put your book in a linear context, it will also help you catch duplicate chapter numbers, chapters missing titles (if you use them), chapters with inconsistent POVs, gaps in time, overlaps in time, and even, possibly, loose ends. Okay, okay, I'll get to it already. All it is – is a simple spreadsheet. I know no one told you there would be math involved, but it's okay. The only math you really need to know is how to read a clock. Is that even math?
Open your spreadsheet program. I use MS Excel 2010. Now, I'm using a spreadsheet instead of a table in a word processing document because it's easier to sort and move things around. And, if you decide you need an extra column or row, you've already got it at your disposal instead of having to create more. It's just simpler.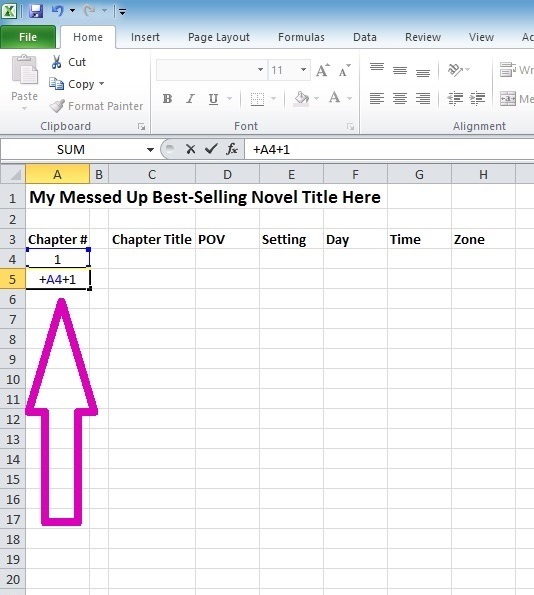 Put in the title of your book and create whatever columns you think you'll need. Again, the beauty of a spreadsheet is that it's so easy to add, delete, and move rows and columns if you feel you need to – so it's no sweat if you realize you need more as you go along. Add your chapter numbers under that column. Hint: you don't have to type them all in. Just do a simple formula using the cell above it +1, hit copy, and paste it down as far as you want – and voila! All your chapter numbers. I personally don't title my chapters, but I thought that might be useful to some – so that's in column two. It's my first time writing a book with multiple POVs, so I want to track and make certain I don't accidentally have the same character's POV two chapters in a row. Setting can be important if you have your character in Seattle in the morning and twenty minutes later, he or she is in Boston. What?! And, of course, if you have some characters in England and some in Vancouver, that's going to be make a difference time zone-wise.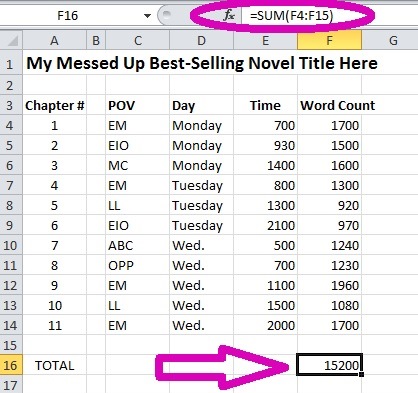 Other things you can track using the spreadsheet include, but are not limited to, chapter word count (if you care about them being of comparable length), key conflict (helpful when writing your book description), or whatever else suits your fancy. The cool thing about inputting chapter word count is that you can quickly and easily total your book's length and chart your progress. Now, I know that most word processing programs will give you a word count total – but that's only if you write your book in ONE document. Since I write out of order (I know a lot of authors do), I tend to make a different document for each chapter. This way, I can easily see how far along I am in the book.
I found this technique particularly useful when I was writing Lust for Danger, when Special Agent Night was chasing bad guys across time zones and I was working full-time so I only had a few hours a night to write. Having something which helped me keep organized and showed my progress was invaluable. How would you use it?