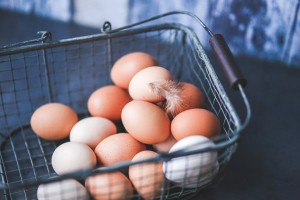 I've seen all of you authors struggling with the basketing of eggs question. Go exclusive with Amazon, join Kindle Unlimited, and maybe, possibly, at least that one guy is convinced, it will give you more visibility in the Amazon store. At least a few of your peers have said it worked for them, plus they picked up a few dollars they'd have never seen from borrows. Others report they're doing great elsewhere, a few even selling more eBooks through Apple, Kobo, or Barnes & Noble.
I have a situation that is different. And yet maybe not. In any case I think explaining it will provide some insight into the indie book world that could be valuable for indie authors, especially when they're wearing their marketing hat.
I'll start with some history. When I first started thinking about starting my review site, the intent was to specialize in indie authors and books available for the Kindle. The tag line at the top of the page says, "Reviews and more from the world of the Kindle" and has said about the same thing since day one. (I'm not sure when this post will be running, but think it will be very close to the site's five year anniversary which we'll hit on January 23rd.) Going in I had no expectations of making money doing this, but had done enough legwork to realize there were ways to generate a little revenue, hopefully enough to defray any expenses with enough left over to take the grandkids out to dinner every month or two.
In a previous post, I explained some of the revenue opportunities for a blog such as mine. The main one was to generate income as an affiliate of Amazon. So before I started, I signed up to be an Amazon affiliate. I did the same with Barnes & Noble. From the start, each review I posted had a link to buy an eBook for the Kindle, the Nook, or what I identified as a DTB. (That's a dead tree book although it turns out only eBook readers understood that. Those paper sniffers are so stuck in 2010.) Within a couple of months I decided to add buy links for Amazon's UK site as well as Smashwords.
After almost five years operating like this, I made the decision to drop all buy links except those for the Kindle versions on Amazon's flagship site and Amazon UK. If you're wondering why there's the short answer and then a longer one.
The short answer is: hardly anyone was using those other links. That's not strictly true. Looking back over the last month, people have clicked on them, but the numbers aren't very big and the percentage who actually end up buying is abysmal. Just after making the decision to do this, but before implementing the change, someone bought a book on Smashwords after clicking on one of my links. The previous Smashwords sell was in Februrary. Make that February of 2014. Barnes & Noble is a little better, but they have other issues.
The short answer seems like reason enough not to bother with the other links. While gathering the special affiliate links for each store doesn't take much time, it is a hassle and the time adds up. If the pennies were adding up at a pace slightly faster than glacial, I might feel differently.
The long answer includes all of the above and throws in a few other considerations.
Where Smashwords is concerned, there are a lot of things to like about them. The ability to get eBooks that as a matter of policy are not protected by DRM, and the availability of those books in a variety of different formats, are two of the reasons I've wanted to support them. However, they see their core business as being an eBook distributor rather than a retailer. Consequently the majority of their resources go to making them a better distributor with the results that their storefront sucks.
Then we have the KU effect. Authors are enrolling and unenrolling their books from Kindle Unlimited, which means the link to Barnes & Noble or Smashwords that works today is a dead link tomorrow. Or the book I review today isn't available on either, but as soon as their 90 days is up, they're "going wide." Attempting to keep up with that is one task I'd never consider attempting. The effect is that blog visitors who own a Nook and are interested in a book that was available when it was reviewed are often going to come up empty, while at the same time they'll not realize this other book that wasn't available for them before, now is.
Last we have Barnes & Noble, a company that seems determined to do everything wrong. I'm sure most of you are familiar with the challenges their website can present when trying to find what you want. It may be prettier than Smashwords, but it sucks just as much. To their credit, their search function seems to have improved recently. I'm much less likely to require three or four tries to find the book I want than I was last year. But Barnes & Noble also has a habit of changing who administers their affiliate program. When that happens, your buy links become non-functional at worst. At best, they'll still get your reader where they want to go, but if they buy something, the you won't get credit. The affiliate is expected to go back through all the links on his or her site and get new links that will function with the new administrator. The first time they did this was not long after I signed up. It was a pain, but not a big one, to update the links. Then a few years ago they changed their program to not give affiliate credit for purchases of eBooks. I considered dropping them then, but figured "they can't be that stupid, can they?" and thought it would change back. Turns out that they are that stupid, but I continued linking to them. Now they've changed their affiliate administrator again which I expect to render all my Barnes & Noble links useless. Am I going to replace almost a thousand links? Nope. Not going to happen. Bye bye, B&N.
And there you have it. After keeping track of that tiny basket of eggs from Smashwords and the bigger basket that was half full of eggs that upon investigation are actually only hollow eggs shells, I've decided to toss those baskets on the trash heap and concentrate on the big basket. I hope my readers who keep buying boots (that's not a typo, boots, not books) from Amazon will continue their December buying spree into January. If they do, I might even be able to take the grandkids out to dinner two months in a row.