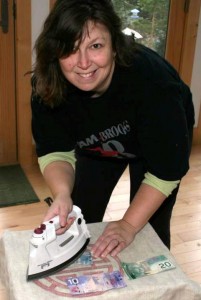 In my first post about utilizing the tools given to us by Amazon.com, I covered setting up your Author Central page. No matter how many books you have available, you should take advantage of this. The tutorial is here. I've also shown you how to set up your own book store using Amazon's engine. That tutorial is here.
Now that you've gotten yourself set up, the next step in this grand scheme should be monetizing links. Yes, this applies to you. You have a blog, right? A web site? A web presence? Anything you post anywhere with a link to your book or author page on Amazon.com should be monetized. Why not make a commission on your own books? And better yet, if you're providing another author the platform to promote their work, why not see some commission off any sales you generate for them? Honestly – if you post a link to my book on YOUR blog or web site – THANK YOU. Go nuts…post them all! And go right ahead and monetize them. You deserve a commission for doing me that favor. Capiche?
Amazon makes this ridiculously easy to do. You can use your existing account to set up your "Amazon Affiliates/Associates" account, which you should have already set up in order to make your book store. If you haven't done that yet, please use the link above to the book store tutorial and follow the instructions there. Amazon gives you the ability to set these accounts up for the US, UK, Germany, France, Italy, Spain and more. We are only going to cover the US today – but in essence, the techniques are the same.
Make sure you are signed in to your associates account. You can sign in here.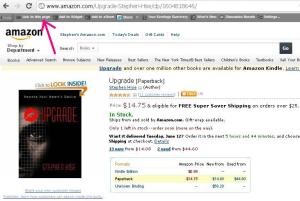 Go to whatever book (or any product, for that matter) you would like to list on your blog. Let's say you would like to promote the Evil Mastermind's novel, Upgrade. And why wouldn't you? It's an excellent book. In fact, at one time, it was the most expensive eBook in the world. In any case, if you're logged in to your associates account, there should be a gray toolbar across the top of your screen. Click "link to this page" as shown in the photo to the left (magenta arrow).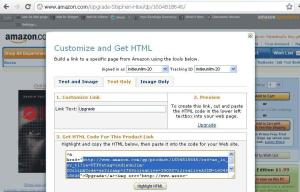 This will bring up a pop-up screen giving you a number of options. Which option you choose depends on what you're doing and if you want a photo, a widget or just a link. I'm going to show you how to do the latter, which can be used anywhere. Click "text only" from the tabs. You can use this method for any link, anywhere, especially in blogs, without getting all HTML discombobulated.  Highlight the code from the first open quote to the closing quote as shown in the photo above. This will be your target link instead of the URL you'd normally grab from the top of your screen. Now, just paste this in your blog's insert/edit link window, and you'll be good to go. In MS Frontpage, it would be called "insert hyperlink". You can even use this to monetize a photo of you or your book's cover.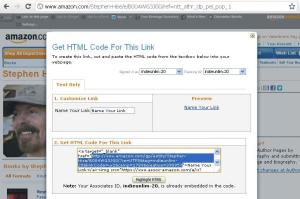 Don't want to link to a book? Want to link to an author page so ALL the books are listed? Sure, we can do that as well. May I suggest we use Evil Mastermind Stephen Hise's Author Central Page? Just go to his author page, click on "Link to this page" in that magical gray toolbar and…voila, same deal. The code comes up, you just have to copy from the first open quote to the closing quote as shown in the photo to the left. Again, this will be your target link. Paste that as explained in the paragraph above.
If you know HTML, you can do a lot with this tool. If you don't, you still have a good amount of flexibility – so play around with it and see how you make out. It truly is worth the time and effort, and once you get comfortable with it, you'll wonder why you weren't doing it all along.
So, now, go ahead and post monetized links to all MY books on your blog. Oops, I mean, the boss's books. Oh, what the heck. Once you get the hang of it, you'll be monetizing everything. Now spiffy up your book's page, because tomorrow we'll be doing an Amazon.com Book Like-fest!