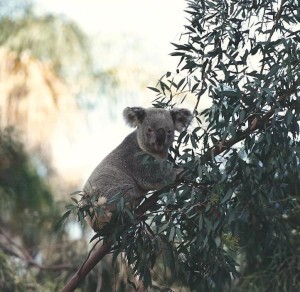 As arboreal creatures go, koalas are pretty laid back. They never get too stirred up and tend to have a rather philosophical view of things.
Kirby was an exception to this rule. He had an active imagination and a nearly perilous curiosity about the world.
Of course, the other koalas frowned upon such adventurism. Old Kanda would say, "If sitting in a nice spot, chewing eucalyptus, was enough yesterday and the day before, it is good enough for today as well. Leave the rest alone."
Such a laconic and disinterested lifestyle just did not suit Kirby's nature. He longed to be an explorer or perhaps a spy. One day, Kirby saw a group of people having a picnic on the ground below. He eagerly took it upon himself to discover what these creatures were up to…
Welcome to the Indies Unlimited Flash Fiction Challenge. In 250 words or less, write a story incorporating the elements in the picture and the written prompt above. Do not include the prompt in your entry. The 250 word limit will be strictly enforced.
Please keep language and subject matter to a PG-13 level.
Use the comment section below to submit your entry. Entries will be accepted until Tuesday at 5:00 PM Pacific Time. No political or religious entries, please. Need help getting started? Read this article on how to write flash fiction.
On Wednesday afternoon, we will open voting to the public with an online poll so they may choose the winner. Voting will be open until 5:00 PM Thursday. On Saturday morning, the winner will be recognized as we post the winning entry along with the picture as a feature.
Once a month, the admins will announce the Editors' Choice winners. Those stories will be featured in an anthology like this one. Best of luck to you all in your writing!
Entries only in the comment section. Other comments will be deleted. See HERE for additional information and terms. Please note the rule changes for 2016.