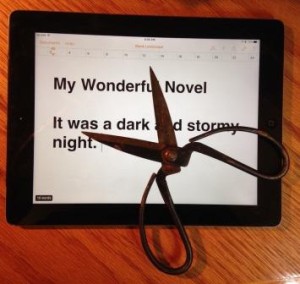 Beta read, proof-read, copy edit, line edit, stylistic edit, substantive edit, aunt Mary's read-through: you name it. Ask just about anybody what the different types of editors are called, and they'll give you a different answer. And why should we care? We can't afford them anyway.
Knowledge of these various functions can be applied to our own self-editing process and make us better writers. So… we can't afford four different editors. We should be sitting ourselves down at various stages of the writing process and making certain decisions, whether we have help or not.
Chronology and Value
The main reason we want to nail these chores down to some degree is that authors and editors need contracts that set out the responsibilities of each. But by an amazing coincidence, it turns out that the decisions that are made earlier in the writing process have the most impact on the eventual success of the book, and therefore the quality of the advice we receive at each stage can be treated with appropriate respect.
To a great extent, this value is based on how much the editor knows about the art of story-telling (and the effect on a great number of readers) at one end, and how much he knows about the mechanics of writing (and the effect on that picky English teacher you had in Grade 11) at the other. And all the other editors are somewhere in between. Here's a list:
1. The Acquisitions Editor
This is a very important editor that Indie writers don't have to worry about, although we should. This person works for a publisher and looks over the best of the submitted manuscripts to decide whether they will sell. We Indies do this all at once in a fleeting gush of enthusiasm the moment we think up the idea for the book. Then we forget it. We shouldn't. Because this guy knows the market. He knows what the reader wants. He can tell us what section of the reading public will buy our book. His talent is more of an art than any job that decides how to spend millions of dollars should ever be; he ranks right up there with the people who write the Federal budget.
Anyway, we should do a lot of this type of thinking before we put one word on the page. Because once we start writing, we're hooked. It's our baby, and nobody's gonna tell us it won't sell!
2. Developmental, Substantive, or Content Editor
This person should start much earlier in the game than any writer wants. He can come in when the story is only a gleam in the writer's eye, an idea that came to you one Sunday morning as you lay in bed waiting for the hangover to go away. He works on the whole book, breaking it down in large chunks, some of which may not be written yet. He considers the readers' experience as they read the book. What if your MS contains two very distinct sections and would be much better written up as two separate books? (This happened to me. Twice. Is there a message here?) That is a developmental problem to be solved before writing progresses any further.
The developmental editor is aware, probably more than the author is, that the story has a message that the author communicates to the readers by taking them on an emotional journey. That allows them to experience the ideas the author is discussing. Without this emotional journey, the author is only a lecturer, and only university students are stupid enough to pay to sit through a lecture. So the main concern at the developmental stage is the thematic material (what the author wants to say) and the emotional path (how the reader will feel). This includes character development over the story and suspense created through the development of the conflict.
This is the most valuable form of editing. One hour with a good developmental editor might turn your book into a bestseller. One hour of proof-reading might turn up a dozen grammar errors. You do the math.
3. Copy, Line, or Content Editor (Yes, that one's in there twice)
Once the story has been set on rails, the writer can get at it. Unless you need guidance or have serious stylistic issues, you shouldn't need any help for a while. However, once the book is in first draft form (and let me emphasize that this means the author's seventeenth or thirty-ninth draft) it's time for a copy or line edit. Now we're looking at it chapter-by-chapter. Although the developmental editor did this in general, we're now being specific. Are the chapters in the best order? Why is this chapter in the book? Does this chapter have an idea and the appropriate emotional flow to demonstrate that idea?
We also go paragraph-by-paragraph. Does this paragraph contain a single idea? Is it clear what that idea is? Does the paragraph contain sentences of varying lengths? And all the while we're watching the progress of the plot and the characters' personalities, to make sure there are no holes, errors, or unexplained jumps. We also go into sentence structure, vocabulary, flow of language and all that, especially if there's a problem.
4. Proofreader
Once the story is straight, we go completely technical. We do a proofread based on the mechanics of writing. The Chicago Manual of Style, or whatever. To a greater degree, this work could be done by anyone. Except for matters of consistency (how characters' names are spelled), different people could do different chapters and still clean the MS up properly.
And somewhere in the middle there is the Stylistic Editor. I hope somebody else covered his job, because changing your own writing style is one of the most difficult jobs there is.
And the Problem?
As you have perhaps figured out, the Indie writing process is completely skew-if. We get an idea and write a book, and after it's done we decide who the audience is and what genre we can shoehorn it into. We complete the book, then take it to an editor who can tell us the mistakes we made at the start, mistakes that are now so ingrained into the writing that only major surgery will cure them. We use beta readers who don't see the book until it's too late for us to respond to anything they say.
But if we write enough books, sooner or later we get those varying editing functions ingrained into our writing process, and sooner or later we may even come up with a book worth reading.
May it be sooner, rather than later.