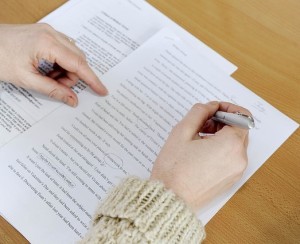 According to Big Al's Publishing Process Survey, only 45 of the 85 respondents paid to work with an editor, although another 17 traded services. There are a number of reasons, ranging from the artistic to the monetary, for deciding not to work with an editor. I've taken the other path and worked with at least one editor on every project I've published. It's my single biggest publishing expense on each book, which, given my propensity for thrift, shows how much I value my editors' feedback.
When writers do choose to employ a professional editor, they normally do it at the end of the process, either working with a copy editor or a proofreader. I do that as well, but I also work with a developmental editor often before I type the first words. I've talked about this with enough fellow writers to realize I probably lost a few of you right there:  The process of creation is sacrosanct. I just want an editor to clean up my grammar and look for a few bad habits. I don't want them to interfere with my creative vision.
I get that. I really do. That said, my thought processes run a little differently. I am willing to listen to input at every step in the process because every decision I make while writing comes down to one thing: I want to make the reader's experience the best I can, every single time.
Here's an example of a recent interaction I had with a developmental editor. In December, I was wrapping up the finale of a five-part serial that I had written over the course of a year. I wanted it done before the end of the year, so I knew I had to focus. As the 25,000 word wrap-up to a romantic serial, I knew the finale was going to center around a wedding. In fact, I decided to throw in a bonus second wedding for another couple.
I drew up a series of beats, laying out a sentence or two for each scene I envisioned. If I hadn't been working with a developmental editor, I would have started writing at that point. Instead, I shipped my outline off to my developmental editor for feedback. I have worked with this editor on close to a dozen projects, dating from my first book (published in 2012), and we have come to a tacit agreement: he will give me his full, unvarnished opinion about things, and I won't get offended. It works for us.
In this case, his reaction was along these lines: "Oh, I thought this was going to be called Second Chance Wedding. This reads much more like Second Chance Wedding Planning. Where's the conflict?" Of course, he was right. I had grown so attached to my characters that I didn't want them to have any more horrible experiences, so I had planned them a 25,000-word waltz toward the sunset. How boring.
Would I have figured this out for myself and fixed it? Probably, eventually, but getting the truth right between the eyes in the planning stage made the process much less painful. I was able to move a few scenes around, reintroduce a character that had disappeared, and generate life-altering conflict. When I got to the denouement at the end of the novella, it felt earned, not perfunctory. I made my deadline, barely, publishing the story on New Year's Eve. Without my editor's wise counsel at the beginning, I would have thrashed around for many extra days. I never would have met the publication schedule I had set out a year earlier.
Does my developmental editor tell me what to write? No, although sometimes he weighs in on that as well. My current work–in-progress is a story that he advised me not to write. Once I told him I was committed to writing it anyway, he said, "Then I will help you make it the best I possibly can." And he will. By the way, his objections to my original idea were valid. I thought about them for several months before I started this new book, and the story took a new and better direction because of his input.
I understand that working with a developmental editor isn't for everyone, but it serves my needs. I have a collaborative personality. I enjoy working together on projects, even something as personal as one of my books. Developmental editing can be expensive, but because I commit to my editor again as soon as I have completed the last project, he includes the developmental editing as a value-added service. I feel fortunate to have found my editor so early in my writing career. We often disagree, but we both have the same focus — to create the best story we can.