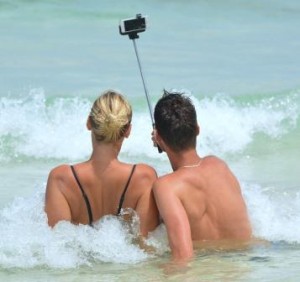 Are you addicted? Did it start long ago with your "Crackberry?" You remember, people were running around with a "Blackberry" glued to their face. It was email — 24/7.
We had no idea what was coming.
Now it's the smartphone — Facebook, Twitter, Instagram, email. Everything demands our attention. And, it's not just our mobile device. You sit typing away at the laptop or desktop and you're looking for that opportunity to check your email or look at updates on Facebook.
How do you know if you are addicted?
You Google everything. What was the price of gas in 1979? Hang on, I'll get you the answer.  Eighty-six cents per gallon or thirty-four cents per liter in Canada.
You check your email more than once an hour.
You send the entire household on a search for your phone when can't find it. Of course, you left it in the bathroom … next to the toilet.
You start to shake when your charge is down to single digits.
You set everything to push notifications with an alert chime for each source.
Is this really good for you? Of course not. Your phone or technology can interfere with your creativity. As writers, that's a big deal. It's a huge time waster … as a writer, that's also a big deal. It can destroy our focus.
Like anything, moderation is the key. So, how do you break the addiction? Change how you treat technology. Here are a few tips to help you change how you view your phone.
Check your email just once an hour. If you have to, put a timer on. Take control of your day rather than reacting to every email alert on your smartphone. In fact, turn off your alerts.
Hide your phone. Seriously, put it away when you sit down to write. Turn off your wireless input on your computer when you write. Disconnect from the Internet. Actually, it's very rewarding.
No phones at dinner! One of my biggest pet peeves. People who can't get off their phone when enjoying the company of fellow human beings — it drives me crazy.
Start your day without looking at your phone. Get up, go outside, brush your teeth … do anything before you look at your phone.
Get outside and take a walk, without your phone. I know … you want to stream music while you exercise. Try streaming the great outdoors. There's tons of wonderful music coming from the birds and other elements of nature. Let your mind rejuvenate. Clear your head so you can go back to your writing with increased effectiveness.
The best streaming device is your own subconscious mind. Unplug from artificial consciousness and allow your mind to work. Get rid of your phone for a specific period each day. You'll find yourself more productive, more creative and feeling a lot better if you do.