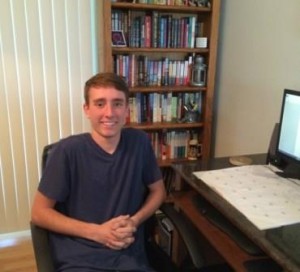 Guest Post
by Caleb Clayton
One of the first questions authors ask after finishing their book manuscript is, "How do I format my book?" It can be confusing, especially if you've never done it before. I started doing eBook and paperback formatting for a small publishing company a couple of years ago and now I also have my own formatting company. I've discovered there are a number of things that authors are struggling with when it comes to formatting, so I thought I would share with you some of the questions I see most often asked. Whether you decide to format your book yourself, or to send it to a formatter, the following tips will help ensure you get the results you want.
1.  Why do I have an extra space between my paragraphs?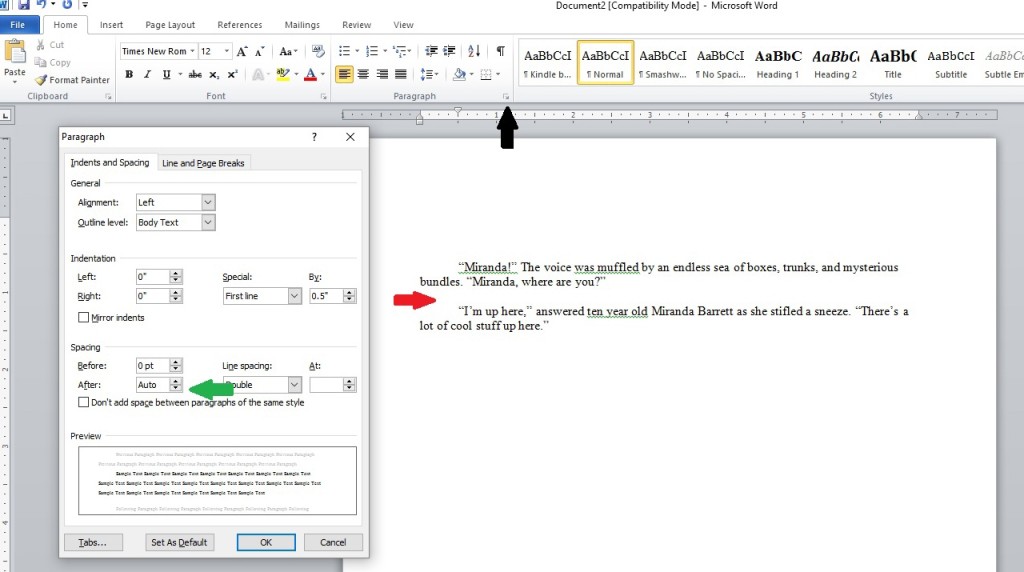 I see this all the time in manuscripts and even in self-published books. If you look at traditionally published books, you'll see that they do not have the extra space (see red arrow below). To get rid of it, you go to the paragraph settings on your toolbar. From the Home page, find the tiny little arrow on the right in the Paragraph section (see black arrow below). When you click on that, it will pull up a menu. On that menu, under spacing, find "Before" and "After" (see green arrow below). Make sure both are set to "0." This will get rid of the extra space between the paragraphs.
2. Why are my headings not centered?
This is another one that comes up frequently. If you look at the example below (red arrow), you can see that the heading next to the red arrow is not centered properly. It is too far over to the right. The green arrow shows a heading that is centered properly. When your headings are too far to the right even though you told it to center, it's because your document is putting an indentation in front of the heading. In the example below, you can see that the paragraphs are indented. The document sees the heading as the beginning of another paragraph and inserts an indent. Then, when you tell it to "center," it centers starting at the indentation instead of flush left.
To correct this, put your cursor to the left of the heading text (black arrow below), and backspace twice. The first backspace will take it to your indentation point. The second backspace will take it flush left. Then tell it to center again, and it will be centered correctly without an indentation.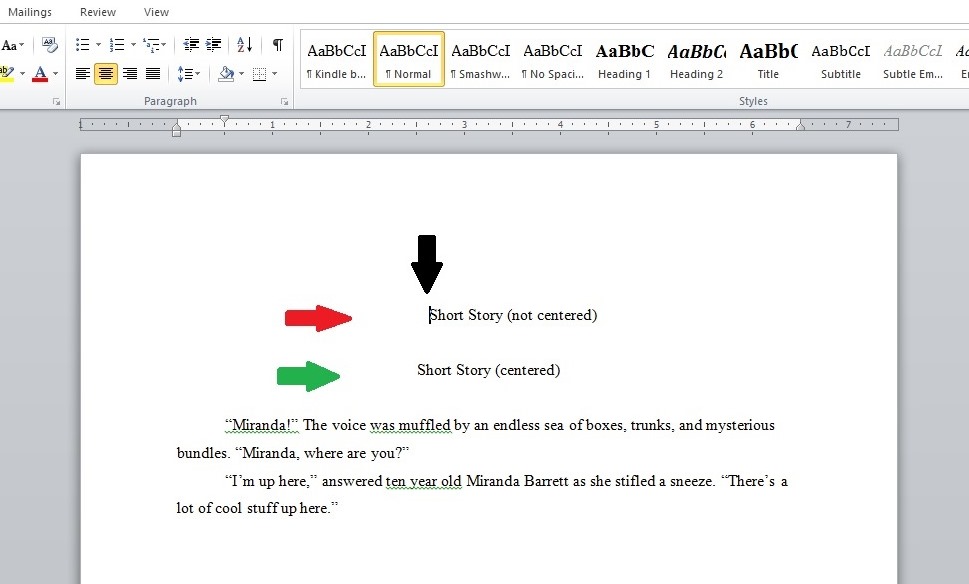 3. How do I embed live links to my Kindle books in the back of each book?
This is also a marketing tip. If a reader likes your eBook, adding links to your Author Central page or to your individual books at the back of your book make it very handy for him/her to be able to quickly access them on Amazon. (Keep in mind that if you upload to Smashwords they don't like Amazon links!) Type the name of the book (or website, etc.) that you want to link to. Then left-click and drag your mouse to select it (red arrow below). Next, right click your mouse and you'll get a dropdown menu. Click on "Hyperlink" (black arrow below).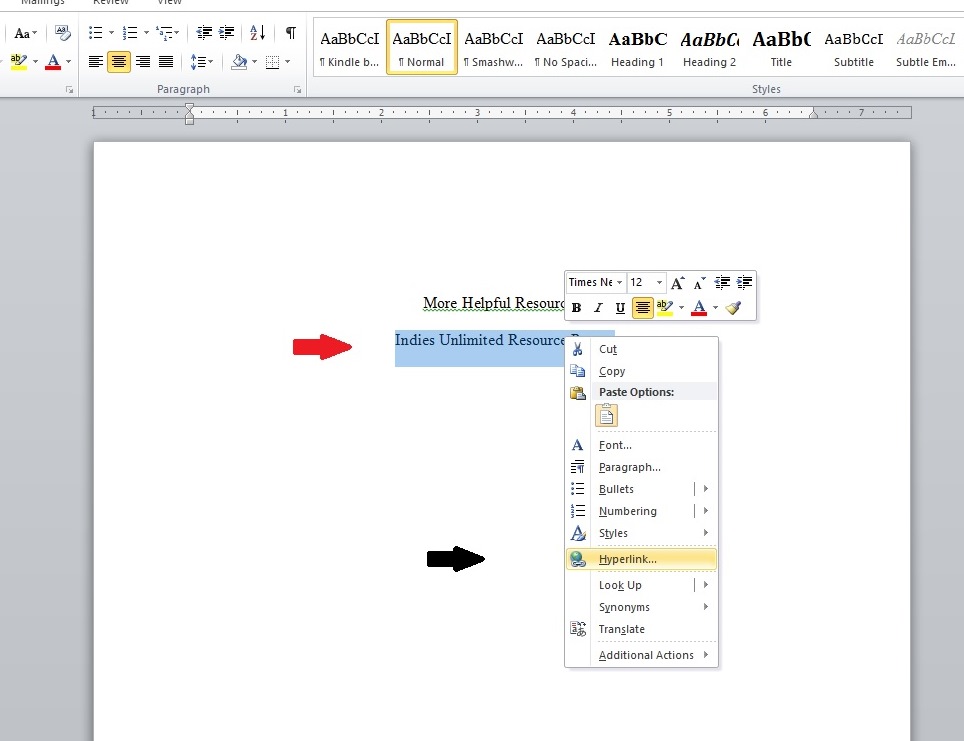 When you click on "Hyperlink," you'll get a pop up. At the top of the popup is a box with the text you've highlighted (red arrow below). At the bottom of the popup is a box labeled "Address" (black arrow below). Go to the link you want (your book on Amazon, your website, etc.) and copy the link. Come back to your document and paste it into the "Address" box. Once you've done that, click "Okay."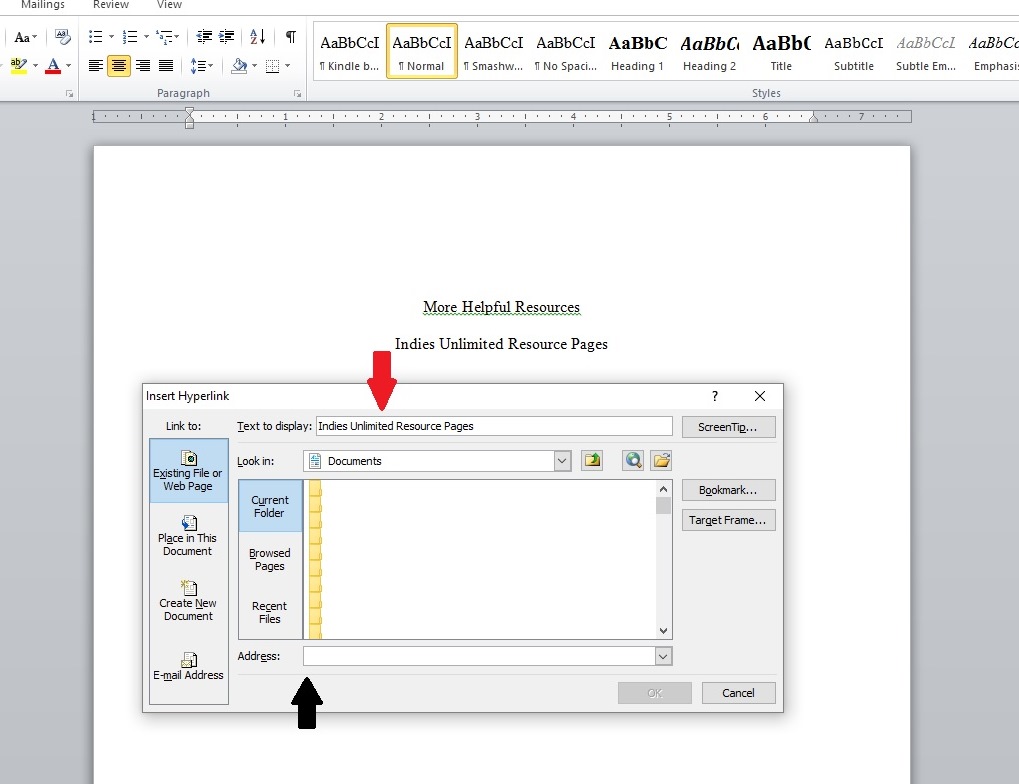 Your link is now embedded into the document (red arrow below), and when you click it, you'll be taken to the desired web page.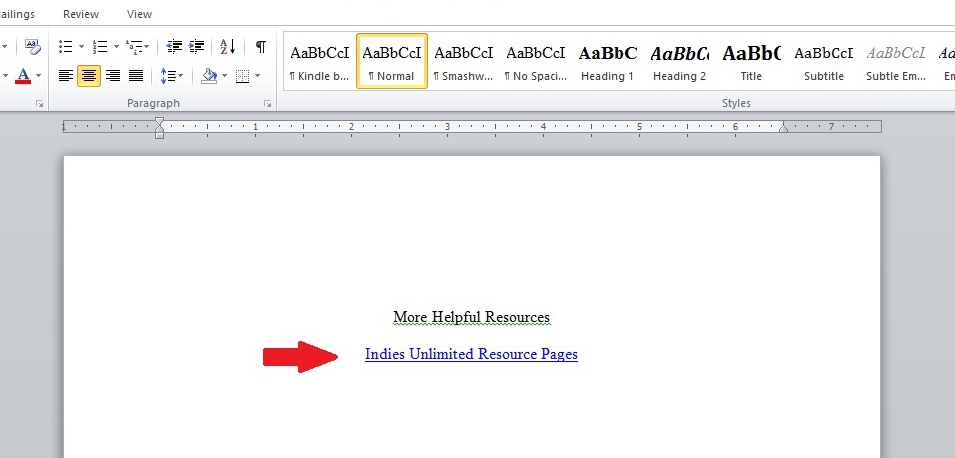 While these are all fairly simple tips, attention to detail goes a long way when formatting books. A badly formatted book can draw a reader out of the story, which is definitely something you don't want to do.
Thank you to K.S. Brooks for inviting me to post.
---
Caleb Clayton is a young entrepreneur working to establish his place in the world of ebook and paperback formatting. Clayton is an Adobe Certified Associate in both InDesign and Photoshop. You can learn more about him and his formatting services at his website.