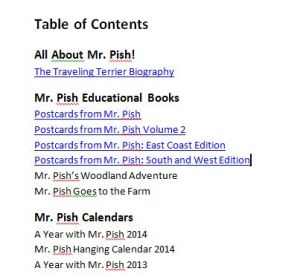 There's been a lot of confusion and debate over how to create a table of contents in an eBook that will survive KDP and Smashwords conversions. Some say you have to do it all manually, and some say you can use MS Word automation. Lynne Cantwell wrote a post about the manual method, and Dick Waters just recently wrote about a more sophisticated style.
Personally, I go with a completely manual method, because I run all my eBooks through MobiPocket Creator and convert them to a prc before I upload to KDP – and that will for certain strip out any coding MS Word has graciously conjured up. The lovely Laura Clark (author LB Clark) showed me how to do this way back in 2011 when I self-published my first collection of short works with fellow author Newton Love. (The prc method was one of the ways KDP recommended for conversion back in 2011 – but you don't have to do it this way. It's just my method of choice because it's what I'm used to.)
You can use this table of contents method on an existing document or a new document, that's not a gating factor. I usually do it in an "assembly line" fashion, as that's faster, but I'm going to do it one "chapter" at a time so the sequence is clear.
First, go to your manuscript document. (I'm using Windows8 and Word2010, but I've done this exact same thing on WindowsXP and Word2003 and older.) Go to the first chapter heading you want to link to. In this case, I want to link to Mr. Pish's biography, so I'm going there. (See screen shot below.)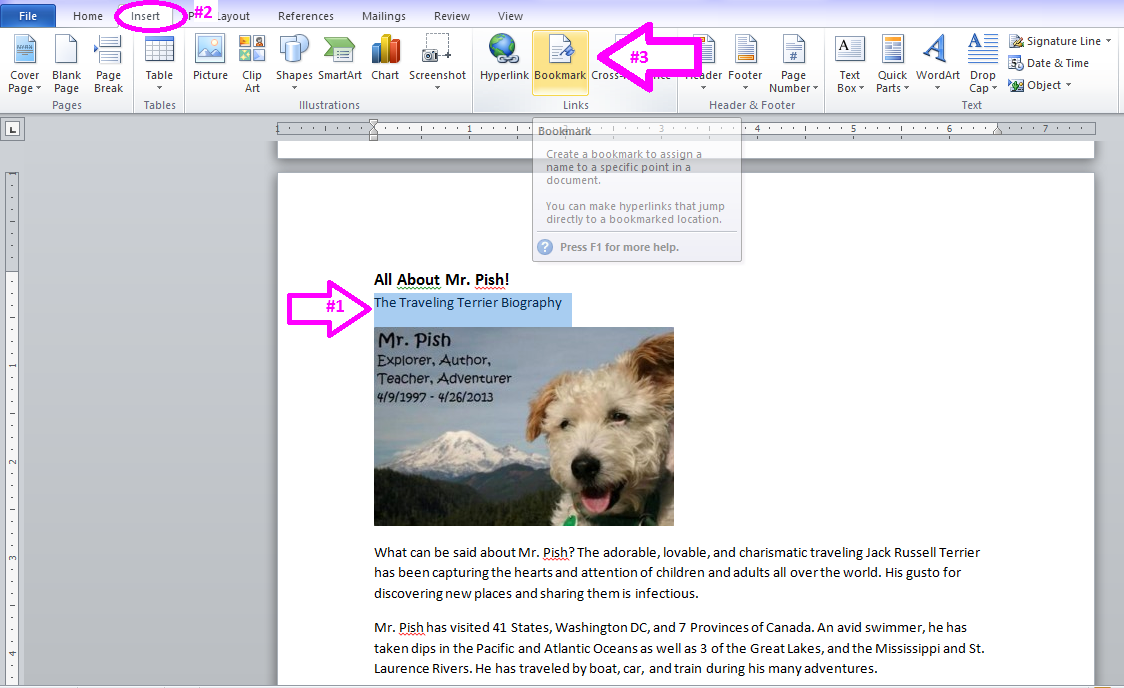 Highlight the line you want the TOC (Table of Contents) to go to – #1 arrow. Then click insert – #2 circle. Then click bookmark – #3 arrow. A small window which explains what a bookmark is will magically appear when you hover your mouse over the bookmark button. If you're unfamiliar, a bookmark is basically a hyperlink within a document. If you've ever gone to a website with an FAQ that lets you click on the question and that sends you further down the page for the answer – that is the same thing as a bookmark. Capiche?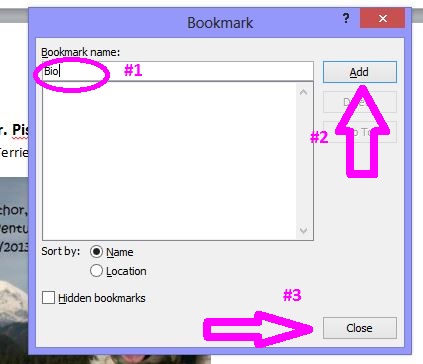 After you click bookmark, the above window will pop up. Type in what you'd like to name the bookmark (don't start with a number, and no spaces allowed) and the "Add" button to the right will become activated. Click on that – #2 arrow, then click "Close" – #3 arrow.
Scroll up to your TOC. Select the line that you want to be able to click on and have go to Mr. Pish's biography. See screenshot below.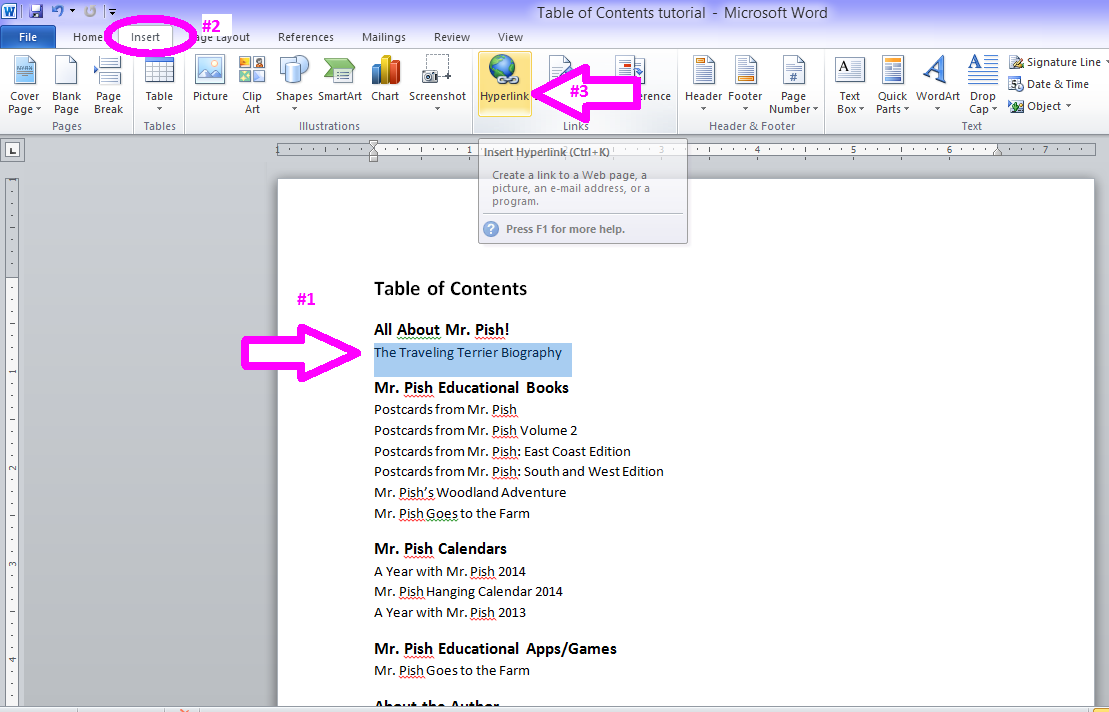 Highlight the line (#1), click insert (#2), then go to hyperlink (#3). When you hover over hyperlink, Microsoft will again give you a nice little explanation. Clicking on hyperlink will give you the following: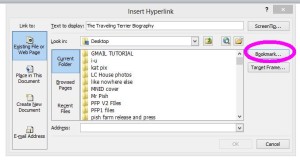 There's a lot of stuff in that pop-up window, but all you need to worry about is Bookmark which is circled in pink. Click on that and another window will pop up.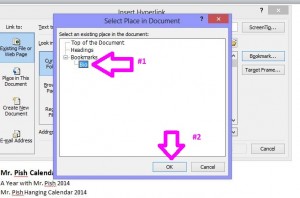 Notice the bookmark you named "Bio" is right there! Select that – #1 – then click OK – #2. That will take you back to the hyperlink pop-up, and you'll notice that the address is now your bookmark. All you have to do now is click OK.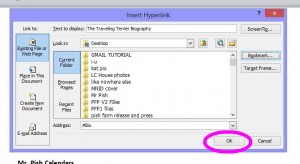 And voila! Check out your TOC now! The line you selected is now a blue hyperlink. Go ahead. Click it. You know you want to!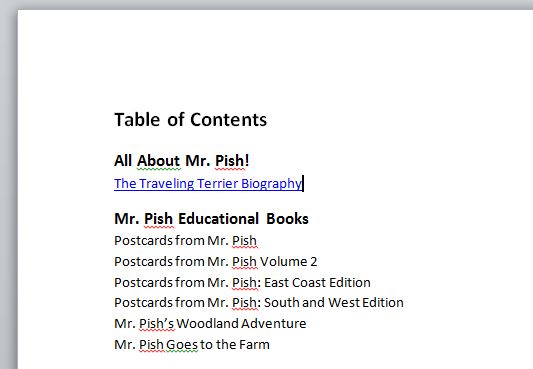 It's really that simple!
What I'll normally do is go all the way through to the end of the manuscript, adding the bookmarks, then I'll go up to the TOC and add the hyperlinks one by one so I'm not constantly going back and forth. But wait! That's not all!
To make things convenient for my readers, I always put a "Back to TOC" at the end of each chapter. So let's try that now. This means, we're going to actually make the Table of Contents header into a bookmark.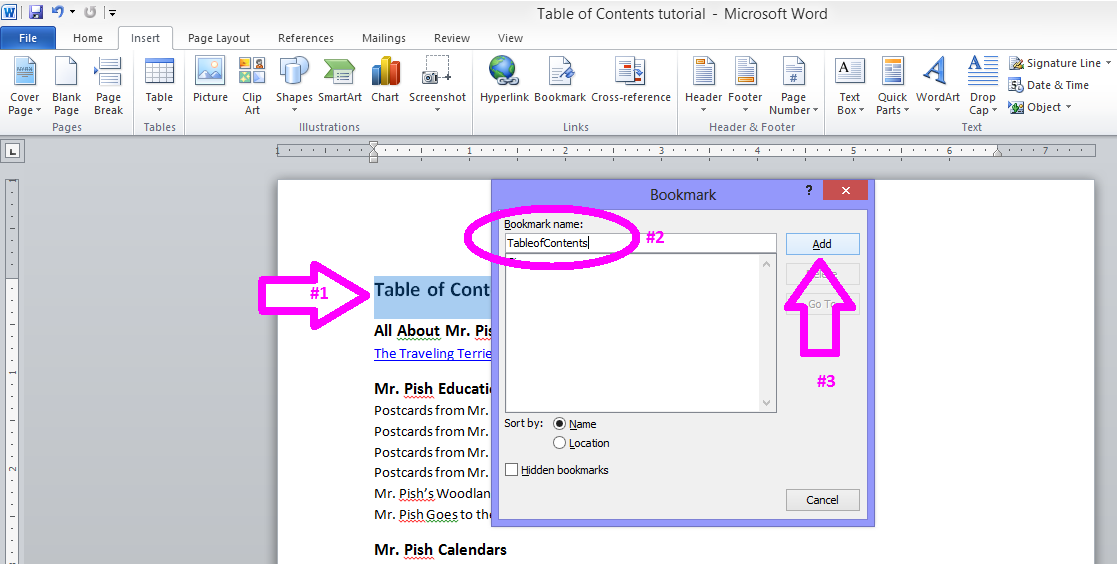 Highlight Table of Contents – #1; click insert/bookmark, then enter what you want to name the bookmark – #2, and click Add – #3. Now, scroll down to the bottom of the first chapter.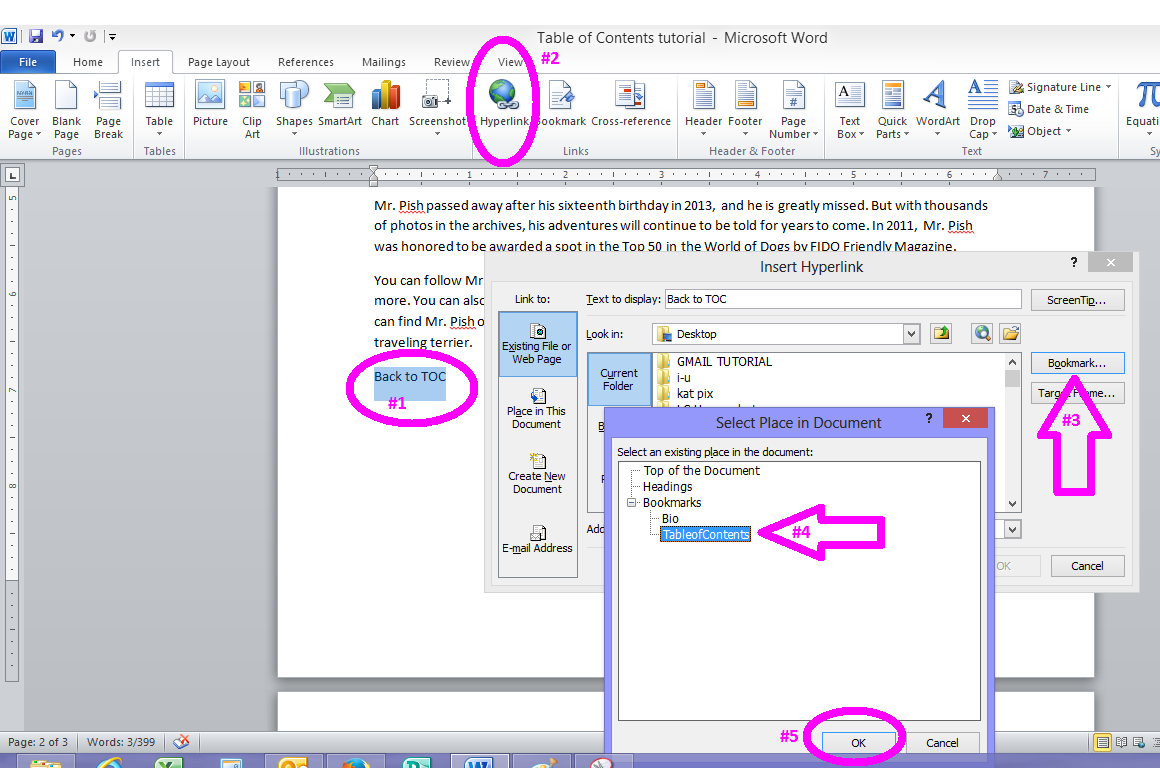 #1 – Type "Back to TOC" or whatever you'd like there, then highlight it. #2 – Click insert, hyperlink. When that next window pops open, #3 – click bookmark. Then select TableofContents – #4, and click OK – #5.
BAM! You've got a hyperlink back to the top. Now, what I've done in the past as a shortcut is – instead of performing that routine at the end of each chapter, I just copied and pasted the "Back to TOC" hyperlink at the end of every chapter. Shhhhh.
So there you have it. Very simple. It's time consuming, especially if you're doing a book of let's say – tutorials – with eighty or more articles…seriously, who would be crazy enough to do that, right? *Ahem* But seriously, if you check out the Indies Unlimited Tutorials and Tools books (either volume), you'll see that this method does work. Volume 1 is also available on Smashwords – so – I guess if it can survive the meatgrinder, it can pretty much survive anything.