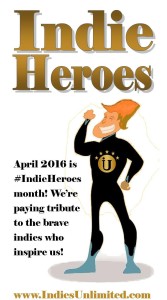 As #IndieHero month here at Indies Unlimited comes to a close, I wanted to take a moment to shine the light on some of my Indie Heroes – the ones here at IU.
You see their articles every month – which you read for FREE. They sometimes have to work at finding a topic – like writing a book, ideas don't always come that easily. Then, when they have to, they research them, write them, create the SEO information to go with them (yes, you ALL should be doing that each time you write a blog post – or who will see your stuff?), find a matching image, and then send them over to me by the deadline. That's right, they do all this for free. Because they are super cool people, exemplars of the indie spirit.
Of course, I could go on forever as to how awesome the minions are, so I've limited myself to one or two sentences below describing why each of them is my #IndieHero:
Melissa Bowersock: Author, super-talented photographer, lightning in a bottle. Melissa bangs out the books yet still maintains great quality and a powerful writing style.
Laurie Boris: Consistently turns out top-notch literary fiction (with lots of awards to show for it!) and still manages to balance work, publishing, writing, and marketing so very well.
Lynne Cantwell: Her ability to be so prolific while working full-time boggles my mind. And all while writing weekly articles for IU? Just wow.
Melinda Clayton: Author, publisher, marketer, all-around swell lady, and a champion for indies to make sure they don't get taken by scummy publishers.
RJ Crayton: I love how RJ's finger is on the pulse of so many things, while writing and maintaining a social media presence. She always shares the new things she discovers and is super cool to boot.
Martin Crosbie: If you look up "paying it forward" in the dictionary, Martin's picture is there. He has been a huge help to me, and I'm so pleased (and envious!) that Amazon Scout has published his latest book.
Jim Devitt: One of the nicest guys you'll ever meet; his writing style reflects that. Jim has a way of taming the confusing aspects of social media so people like me can understand them.
Yvonne Hertzberger: It's been wonderful watching Yvonne learn and grow and work through the difficult aspects of being Indie. She inspires me to take on situations I'd normally shy away from.
Shawn Inmon: A man with a plan and he goes after it like nobody's business. (So many cliches! Sorry.) I watch and learn and I know I will be a more successful author if I can emulate even some of what Shawn does.
BigAl Kunz: I have learned so much from Al. He is always there whenever I need to bounce an idea off him, and seems to be omnipresent, keeping up with industry news and trends, all while working full-time.
Gordon Long: I love Gordon's wit and his ability to dissect sentences and suggest corrections. And he's an excellent writer who is not afraid to go where others have yet to venture.
Melissa Pearl: A veritable factory of books, Melissa is a book release cyclone and it's all done with style and vigor.
Kathy Rowe: Even with everything on her plate, Kathy will always – and quite generously – help an indie out – and has helped me many times.
Cathy Speight: Ever the epitome of class, Ms. Fabulosity – as I call her – has bent over backwards to help indies (even some who didn't deserve it!), and has gone way beyond the call of duty in many instances.
Dick Waters: Extremely professional and helpful, Dick's "make it happen" attitude constantly motivates me.
Candace Williams: I've been impressed as Candace has gracefully mastered the learning curve from trad to indie publishing. I love her candor about it all and her willingness to ask questions when many would have just given up.
So much to say, but so little space. Of course, there have been some former minions who have also shared their time and efforts and who each are still my #IndieHeroes.
Last, and certainly not least, is the Evil Mastermind, founder of Indies Unlimited: Stephen Hise. Steve thought I was doing him a favor by coming on as his blog partner, when in fact he taught me the true meaning of being indie – that I could, really, do it all myself. He was undaunted by the thoughts I had that only graphic designers should make book covers or only folks with production experience should make book video trailers. He dove right in and did those things himself, and in some cases, did them for me to get me on the right track. He showed me that I could do them on my own. I'm no longer held hostage by the preconceived notions I learned back East like "writers should just write" and "let the experts do their jobs" – because as a writer, with no money, those two things meant nothing would ever get done. Without Steve, I'd still be biting my nails down to nubs over how to get illustrations for my children's books and how to get book covers on everything I've written since 2011.
After founding Indies Unlimited in 2011, Steve spent 16+ hours per day, 7 days a week for three full years running the site (and yes, two of us were putting in that much time). It was important to him that indie authors had a place where they could find the information they needed – so they wouldn't have to endure the trial and error and uncertainties that he experienced when he published his first book. Even though he had to step back from running the site in 2014, Steve's philosophies live on here at Indies Unlimited.
Thank you all for being a part of #IndieHeroes month.