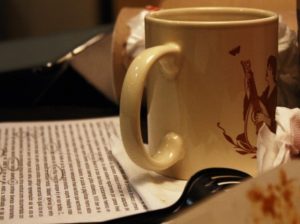 Your muse …
Do you have one? Where does that flow come from? Where am I going with this?
Let's start from the beginning. We all remember some of the crap we wrote. You sat down and started typing (or writing for you hanger-on-ers.) You had an idea and put it down in some form or another. You read it. It was crap. You tossed it.
So now: You sit … thinking. AND thinking some more. AND … more. Aha!
Diving back in, you are on your way to your masterpiece. After a while, you sit back, hands clasped behind your head and you read through your work. What? It's still crap! What am I doing wrong?
Then one day, you're not even planning to write. You sit down and jump into a scene, not the sequential part of the work in progress, just a scene. It may not even be from the current project. But … it flows. I don't mean you write with thought. The words just vomit from your head onto the pages. You are in the zone.
For many, the muse is just a word. It's not a real thing. But, for those of us who live by the word … it is very real. Actually, it's beyond real. You try to explain it to someone, and they don't understand. It's as real and necessary as the canvas is to a painter and a wrench is to a mechanic.
When we are really writing, it's as if you are teleported to a different world. We are no longer the writer, but the tool — the wrench. It's impossible to explain the exhilaration and emotion that we feel as, most assuredly, our mind becomes nothing more than the keyboard on a computer, expressing the thoughts and feelings flowing from somewhere unknown.
But, what is that thing? The Muse. Is it a person? A place? An energy? Well, if I knew that answer, I probably wouldn't still be working my day job.
Our subconscious mind works in mysterious ways. Does that make our subconscious mind our muse? Hardly. It's a literal machine. Thoughts in … reality out. However, within the subconscious lies everything you need to tell your story. The key is unlocking it. Whether it happens knowingly or not, people use certain habits, places, or a combination of actions to open the creative process.
Sometimes, when you start writing, the subconscious kicks in and away you go. Other times, it's a struggle. That's when we need to lean on our muse. Whatever you think about the existence of your muse — whether you call it muse or inspiration or universal energy — it is there. The key is unlocking it at will. In my next post, we'll take a look at some ways keep your muse at the ready and your subconscious flowing when you need it most.