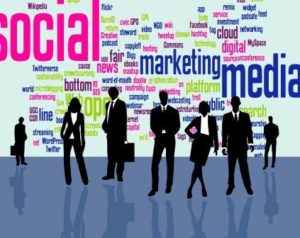 Are you gaining maximum bounce from your social networks? Are Facebook's new algorithms helping or hindering you from adding readers to your mailing list? Are Instagram and LinkedIn helping you gain subscribers? How can you really get more Instagram followers? What about Twitter or Pinterest? What are they doing for you? Did you know there's an actual condition called "Social Media Fatigue"? Yes, there is. Are you feeling overwhelmed yet?
When I present at self-publishing events, I often hear the clicks of multiple pairs of eyes rolling back into the participant's heads when I speak about social networking. Most authors don't want to do it and those who are participating sometimes forget the "networking" part of the activity. Let's assume that we all realize that writing is our primary purpose and the majority of our time will be devoted to creating fantastic products for our readers. Okay, we're agreed – most of the time we are indeed writing. So now, let's talk about that twenty to thirty percent of allotted time we use to connect and engage with readers. Here's what the experts are saying.
1. Don't automatically link your accounts.
Social media master Gary Vaynerchuck and others are big on this. LinkedIn, Facebook, Instagram, etc. are all different forums with potentially different types of followers. Why patronize your potential readers? If you're sharing a Facebook post on Twitter it will abbreviate it to 140 characters and if you have a mesmerizing thread of comments they'll be lost when you share the post. Why not take your most controversial or poetic comment from the thread and use it to link to the original post? Treat your followers like people. Don't robo-post to them.
2. Turn your posts into stories.
Hugh Howey says that every post he creates is a way for him to showcase his storytelling ability. Wow! Did you catch that? It's true. If I read a well-written post I'll investigate the author further. Check out Robert Bidinotto on Facebook. You may not agree with his politics but you can't miss his articulate, passionate comments. In other words – the man can write. Whether you write fiction or non-fiction you're still a storyteller. Make sure every post is a READABLE story. Every time you post you should be exhibiting your talent as a writer. Random thoughts sometimes work (especially if you've had an epiphany that hits hard), but for the most part practice, edit and develop a creative post before hitting "submit".
3. Reduce your likes.
Lots of likes aren't as important any more. We want engagement. The worst thing that can happen is to have a post with dozens or even hundreds of likes and only a handful of comments. Leave your post open-ended. We want input; we don't just want to hear how great we are. We're trying to build relationships and to do that we need dialogue or banter. Many of us have friends who will stimulate this. Tag them and get them involved if you're talking about an issue they're interested in.
4. Be everywhere.
Thinking has changed on this also. Previously we preached that we should pick up to three social networks and stick with them. This is no longer possible as the ball is bouncing back and forth between so many different forums, and Facebook's primary focus is to now to post to friends and family. Fortunately, you can actually be everywhere without devoting your time everywhere. You should have an account on each of the top ten social networks (Google this). If Facebook and Twitter are your things, stay there but take a peek around the corner from time to time too. I spoke to a group of high school students recently and asked them where they were virtually hanging out. It wasn't Facebook or Twitter. Can you say Snapchat? We need to know where people are spending time because our demographics are wide-ranging. My friend's seventy-year-old mother reads Young Adult novels and I don't think she's the exception.
5. Talk about cats instead of selling your books.
M.L. Gardner purified her followers' lists a while back. She concentrates on what she enjoys, so she talks about her cats, shares her cat photos, and invites her followers to do the same. And, it's working for her. Molly is a self-published full-time writer and sells a lot of books, but I've never seen her directly ask for a sale. If you're passionate about your subject, your followers will feel it and they may want to know more about you. Again, we're treating each other like people. And, they'll want to pick up on that positive energy that you're spreading.
As Ed Griffin always said, "Those are the rules, but remember, there are no rules". The key is to keep engaging and finding new ways to connect with our readers. This in turn will help us build our mailing lists and help us be more self-sufficient. And in the meantime we'll keep working on our masterpieces. Yes, we will.