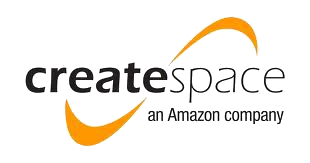 Well, I guess this week is Createspace week! Yesterday we have a post by our Dick Waters showing us how easy it is to create your own print title with CreateSpace. And, tomorrow, we're having a CreateSpace like-fest!
Authors know that selling a book directly through CreateSpace (CS) yields a much higher royalty than selling through Amazon.com. So then, how do you entice readers to purchase your book through CreateSpace? Offer them a discount coupon. Maybe that sounds crazy, BUT, usually the difference in royalties is large enough that you have at least a couple dollars' worth of room to move, so a discount code could help sell print books and make you a better profit!
Now, keep in mind that some people are going to be reluctant to set up a new account just to buy a book. (I'm not certain, but they may be able to just use their Amazon log-in to access CS.) Also keep in mind that now that Amazon is discounting print books – so, depending on how deep they've marked down your book – whatever discount you offer on CS may not end up being worth it. (Not to mention that we don't know whether purchasing a book directly through CreateSpace will show as a verified purchase when the reader reviews it.) Then, of course, Amazon also offers free Super Saver shipping. So why issue a coupon? Because this way, beta readers, advanced copy review readers, friends, and family, can all get themselves a print copy at reduced cost – and, it's a nice gesture, even if they don't take you up on it.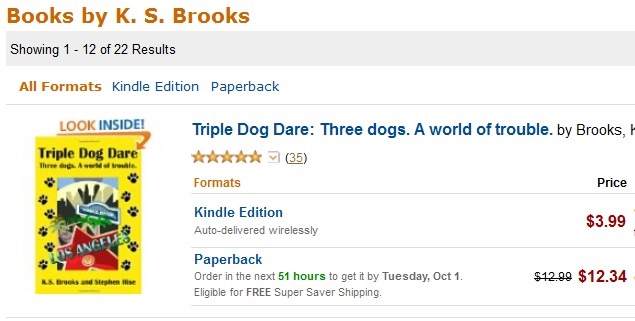 Take a look at Triple Dog Dare, for example (at right). Amazon has only marked it down (so far) 65 cents. So, it would still be worth issuing a coupon as a thank you to the folks I mentioned above. So, in order to generate my coupon, I'm going to log into my CreateSpace.com account and go to my dashboard.
Click on the book you want to discount. That will bring you to the "project homepage" as CS calls it. You can do all sorts of things from this page. If you want to know how much you can afford to discount your book, click "Pricing" near the top of the page (circled in pink). If you already know how much you want the discount to be, click on "Channels" (circled in blue). (See diagram below.)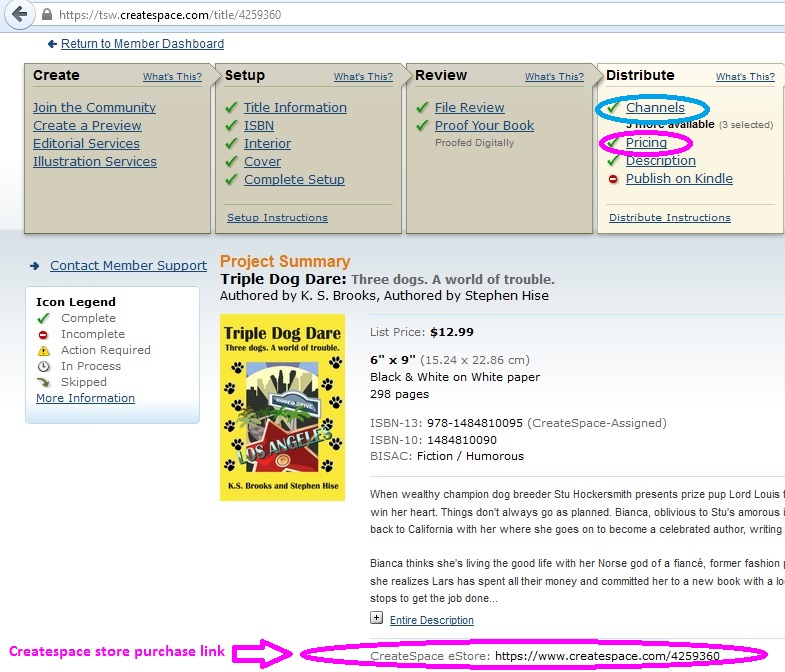 The pricing page will show you what your minimum list price needs to be, and how the royalties will translate based on what list price you've chosen. (See diagram at left.) This way, you can determine exactly how much of a discount you want to extend to those very special people.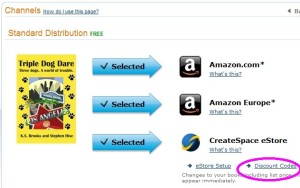 Once you've decided on the amount of the discount, click on "Channels." It's not easy to see, but there's a tiny blue hyperlink in the bottom right-hand corner which says "discount codes." It's almost like they don't want you to see it, right? Well, click on that. Unfortunately, this is where it gets a little confusing – it seems to me this is done backwards.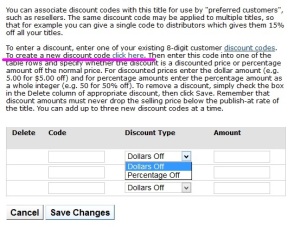 You will now be on the "discount codes" page, which doesn't do you any good unless you already know your discount code. So, click on the link in the text which says "click here" (underlined in pink), and that will take you to the page where you can create your discount code. Believe it or not, you'll need to come back to this page to then paste the code into the "code" field. Kinda kooky.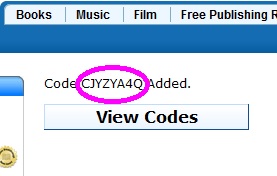 Despite how bizarre I think this order is, at least clicking on that opens into another tab, so you don't have to figure out how to get back to the discount screen. CreateSpace will generate your code and give it to you now. Just highlight and copy that code, then click back over to the discounts screen. Enter the code, select if you want to provide a percentage or actual dollar amount discount, and then click "Save changes."
Now all you have to do is provide the purchase link to your book in the CreateSpace eStore and the code for the discount, and you're ready to go. Keep in mind – these coupons are ONLY good for purchasing directly from CreateSpace. They do NOT work on Amazon print books. These have come in pretty handy for me in the past. I hope they work out well for you, too.