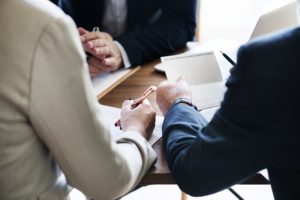 A couple of months ago I wrote a post about vanity presses: those publishers that are in business specifically to take advantage of authors rather than make money by selling books.  In the comments it was pointed out that I talked about vanity presses, self-publishing, and the Big Howevermany publishers as options, but not small presses. I even made the comment that there were a couple of small (some might say micro) publishers that I'd recommend without any qualms. But … I'm not going to name names. Instead I'm going to throw out a few thoughts on why someone might come to the decision to go with a small or micro publisher instead of self-publishing, and some of the things to consider in making such a decision.
I'll start with a disclaimer that this is all just opinion. It's not based on the experience of actually publishing a book using any process, publisher-assisted or not, but from observing the publishing landscape's evolution over the last several years, reading about author's experiences (both good and bad), and reading books that resulted from every publishing process out there.
Why might an author prefer a publisher over going it alone? That going it alone part is the clue. A publisher that is a good fit will assist in those areas that you might not have some of the needed resources or expertise. They'll act as a partner, share in the risk of publishing your book, and also share in the reward. You're risking the time put into writing the book. They're risking mostly money (whether to pay employees or freelancers), but depending on the company structure, probably time in lieu of money as well. Things like paying a cover designer or editor is one place that a publisher could be helpful. The publisher might also have some existing relationships with book reviewers or readers who have learned they won't be disappointed by a book from Publisher X. Those kinds of things might help jumpstart the sales and marketing effort of your book compared to what you'd be able to do on your own.
One thing that should be obvious is that it takes two to tango. Even if you decide you'd rather have a publisher as a partner to help get your book out into the world, you have to find a publisher willing to be the other half of that partnership. Authors who really want to find a publisher, but aren't being successful in finding one, are where the sharks find their easiest prey. That's where those vanity publishers operate, making you feel like you've been chosen, but expecting you to foot the expenses normally borne by the publisher. If you can't find a publisher, it could mean your book isn't good enough. Your idea isn't original enough. Or it could just indicate that it didn't fit into the current needs of the publishers you've approached thus far. Some authors choose to self-publish because finding a publisher could end up being more work than just doing it yourself.
Finding the right publisher and knowing you've found one that is good could be problematic. You could ask authors who have worked with the publisher, but if they're still working with them and want to continue, it might be because they feel chosen more than because they're a competent judge of how the publisher is doing. (Many of the authors "signed" to those vanity publishers will defend them, even as the "publisher" is draining the poor author's wallet dry.) If they're no longer publishing with them, they might have valid insight, or bad-mouth them due to sour grapes or unreasonable expectations. Doing a Google search and seeing what you can uncover in discussions on websites and forums where authors gather, or websites like Writer Beware that are aimed at authors, will give you a feel, at least for how a publisher has been to work with in the past.
While I'd advise finding out what you can about any publisher using whatever research methods are available, I think the better advice is to be careful how much you're risking. Why? Publishing is a risky business. Look for contracts that don't lock you in for more than one book at a time. If the experience with the first book doesn't go well, you don't want to be locked in for the next book. What happens if the publisher goes out of business or pleads bankruptcy? Small, high-risk businesses get into trouble all the time. Anyone who monitors news around non-mainstream publishing could list a few publishing companies that have sprung up, maybe even done well (or appeared to) for a few years, then eventually shut their doors. During the leadup to their final demise, the stories get ugly. Authors aren't getting paid. The publishers aren't doing what's required of them because they don't have the money to do so, but expect the authors to do their part. I suspect they're hoping the next book will be a big hit and save them all. That's rarely the result. More often the result is authors never get paid, have to fight to get the rights to their books back or have those rights tied up as assets in bankruptcy court. You can't predict this, so the best way to deal with the risk is to minimize how much risk you're taking.
Only you can decide how best to take your book those final steps from rough draft to polished work on sale in bookstores. The key point to keep in mind is that no matter what route you choose, you'll be doing some of the work (no publisher does it all), but there are options that might make sense depending on your specific situation.
Again, these are just some of the things to take into consideration. Are there any specifics you would like to see articles about? Let us know in the comments below.