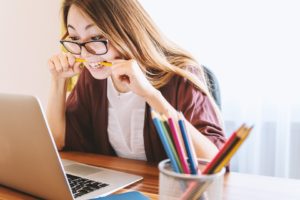 I've published more than twenty works of fiction over the past seven or eight years, but none of them has given me so much pause – so much stick your fingers in your ears and go LALALALA – as publishing the book I've been working on for at least ten years: a memoir of my relationship with my mother and my brother.
Don't hurt me, but I find it pretty easy to dash off 50,000 words of a rough draft of a novel in a month's time (I've won NaNoWriMo and Camp NaNoWriMo multiple times), polish it, and stick it up on KDP. I also don't have a problem writing nonfiction – as long as it's happening to someone else.
This memoir, though.
Here's the deal: About fifteen or twenty years ago, after my mother's mind began to fail, I began keeping a journal. I kept it going after she died, as then I had to deal with my brother, whom I had good reason to stay away from, over the estate and our family home. It wasn't until long after I'd begun publishing fiction that it occurred to me to pull the journal entries together into a memoir – which is when I started with the fingers in the ears and so forth.
So I googled "fears about writing a memoir" and discovered I wasn't alone. I even found a listicle (imagine that!) of nine ways to handle a memoirist's fear that either they will be harmed by writing their stories, or their words will harm others. The approaches this article suggests are:
1.      Write your first draft without concern. This is what I did – I began writing for myself, to myself, and without ever planning to show it to anyone. That allowed me to be freer in telling my story.
2.      Change names and identifying details. You could call this the "women's self-help magazine" approach, I guess. (I didn't do this.)
3.      Be harder on yourself than everyone else. Basically, don't make yourself the hero, and don't write for revenge. I don't think I did either of those. In a lot of instances, I tried to show both sides of the situation (well, up to a point, anyway).
4.      Tell people you're writing about them. I sent the final draft to most of the people whose names crop up in the story – not the lawyers and not my brother, but pretty much everybody else.
5.      Be selective about what you share. This is another admonition to avoid writing for revenge. When editing the book, I did soften the edges of certain events, and some sections of the journal got left out. This also helped me focus on the main story.
6.      Stop anticipating what will bother others. I think a lot of novelists will relate to this. I've read about writers who put people they know in their novels, with the names changed and some identifying details altered, and the reactions of their real-life characters vary; often they don't see themselves at all. With my memoir, I was gratified that the people in it who read the manuscript had no objections to what I'd written about them.
7.      Wait for people to die. That was my initial plan, but the thing kept bugging me. Eventually I realized I'd never get any peace if I didn't publish it.
8.      Prioritize relationships. In other words, don't tell other people's stories. Tell your story, hard truths and all, and tell it from your point of view.
9.      Prioritize your truth. Emotional and verbal abuse figures heavily in my story, and I wouldn't have much of a story if I didn't bring it up. I'll be honest, though: this is the part where I flinched. I kept dancing away from finishing the project. But as Anne Lamott wrote in Bird by Bird: "If people wanted you to write warmly about them, they should have behaved better."
In the end, I overcame my fear and finished Mom's House, and stuck it up on KDP. I'm bracing myself for reviews both good and bad. And I'm looking forward to getting back to writing fun stuff.