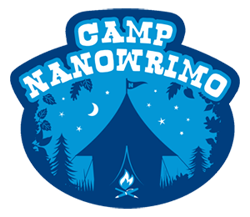 By now, I trust you've heard of National Novel Writing Month, a.k.a. NaNoWriMo – that self-imposed challenge to write 50,000 words in the 30 days of November.
The folks at the Office of Letters and Light have come up with another way to drag you away from friends and family for a month. They call it Camp NaNoWriMo, and they run it twice a year, in April and July.
Like the regular NaNoWriMo, Camp NaNo gives you a framework to formally declare your intention to pound out a manuscript in a foreshortened period of time. And it gives you access to a network of writing friends to socialize with, lean on, and complain to.
But there are some differences to the Camp NaNo experience. If you've balked at doing the regular NaNo, you may find Camp NaNo is a better fit for you. Here's why.
First, the timing. November can be a crazy-busy month. School is in session; if you're a student, a teacher, or a parent, you just may not have a spare hour or two every day for writing. Also, there are holiday preparations to worry about. And for Americans, Thanksgiving falls at the end of the month – which can either be a boon or a bane, depending on whether you're traveling out of town, or hosting family for the weekend, or living a solitary existence with only your cat and your laptop for company…. Sorry. Got carried away for a minute. Anyway, the point is that April and July may be less fraught with outside commitments.
Second, you set your own writing goal. With the November event, everybody's shooting for the same word count. Some people do more (and some do significantly less), but the idea is to write 50,000 words on a single project. With Camp NaNo, that requirement is gone. You set your own word count. And you can write multiple books, short stories, character studies, blog posts, letters to your mom – anything you want – and count the words toward your goal.
Third, the community structure is different. Camp NaNo doesn't have the big, open, bulletin-board-style forum that the November event does. Instead, campers (yes, really) are assigned to twelve-person cabins. You can request your friends as cabin mates, but if you don't have twelve, the organizers will fill up your cabin with people you don't know. Which is just like summer camp, right? You can also make your own private cabin and invite specific people, to make sure you're placed with your friends. Each cabin has its own message center, where you can go for encouragement and commiseration. Alternately, you can ask for a private cabin, and they won't pair you with anybody.
Camp NaNo does have some things in common with its November counterpart. You're still facing the tyranny of the word count – you still have to churn out X number of words per day in order to meet your goal. If you hit your word count target, you still get a certificate to print and post on your wall (not that I've ever done that), and access to "winner goodies" like a discount on Scrivener and a free paperback of your book (or, ahem, any of your other books) from CreateSpace. And it's still free (but they still hit you up for a donation).
I've now done NaNoWriMo five times and Camp NaNo twice. My most recent event was Camp NaNo in April, which I used to write the first draft of Scorched Earth. I find I like the boot-camp style of writing a first draft – but not everybody does. If simple progress is what you're after, rather than a finished first draft, Camp NaNo may be for you.
And if you completed all three events, and wrote 50,000-word novels for each, you'd have three first drafts finished by the end of the year.
July 1st is only a couple of weeks away. Camping, anyone?