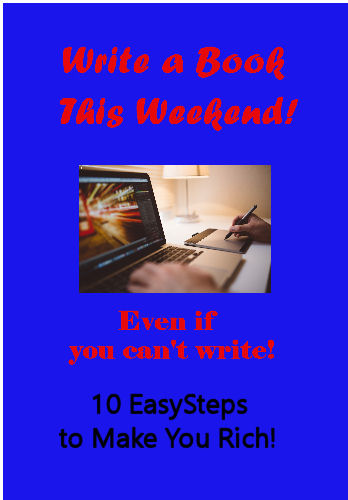 Have you seen these ads? Had your eye caught by that promise of easy-peasy success and wealth? I'm assuming (*cough*cough*) that most of you would know from the get-go that this is the bait for a complete scam, but just in case it tickles your palm and sends your brain into financial what-ifs, here's the lowdown.
You used to see these ads in the backs of magazines (does anyone read paper magazines anymore?), but now you'll see them as pop-ups on questionable sites or as books on Amazon. If you search on Amazon for any kind of writing advice, you're bound to see a few of these come up as suggestions.
I looked at one recently called Real Easy eBooks Workbook: A Step-by-Step Guide to Take your eBook from Idea to Best-Seller (Just Fill in the Blanks) by Ellen Violette. The Amazon description on the sales page promises the book will:
– eliminate stress and overwhelm (I'm not sure how you eliminate overwhelm. Hmm.)
– give you the exact blueprint you need to write your own best-seller
– keep you organized and on track
-and help you write your very own ebook!
I downloaded the book and jumped right in. The first few chapters are all about getting organized. It asks a lot of questions that are geared to planning out your book. However, questions like "How many pages do you want your book to have?" hardly seems helpful. It talks about choosing chapter titles that are eye-catching and interesting, yet doesn't give you any idea how to do that. I found the first third of the book to be simply unhelpful busywork, perhaps to make you feel like you're actually accomplishing something.
And I found half a dozen typos within the first five or ten minutes of reading (in addition to that "eliminate overwhelm" above). Never a good sign for someone passing themselves off as a professional writer or mentor.
I also noticed that every other chapter or so ended with a bit that said, "Need help with this? Contact me!" So basically this entire book comes across to me as a sales promo, which seems weird. On the one hand it promises to give you everything you need to write a best-seller, but then offers services (for a fee) to do that same thing.
At any rate, I continued reading, and at about the halfway point, I suddenly got to a chapter that said, "Now that you've completed your book…" Oh, really? When did I do that? I think this sort of "guide" is ludicrous. It has you setting up the framework for a book (outline, chapter headers), then says basically, "Now just write your book!" If it was that easy, who needs this book?
There's a reason that the maxim "If it sounds too good to be true…" is a maxim, and that's because it's valid 99.99% of the time. This book, and others like it, targets those non-writers who are looking for a way to get rich quick, but have absolutely no concept of what it takes to be a writer. I've even seen a book similar to this that says "Write a best-seller even if you don't know how to write! Can't write! Hate to write!" Those of us who do write know that we do so because we are filled with inspiration; we are fueled with passion, and even so, writing is very often akin to putting our own blood to the paper. It is not easy. It is not (usually) a way to get rich, and if you don't have the innate desire to write, no book you can buy is going to instill that in you. If you're really looking for a way to get rich quick, I'd suggest you spend the money on a lottery ticket rather than a nothingburger like books of this sort. You'll probably have better luck.