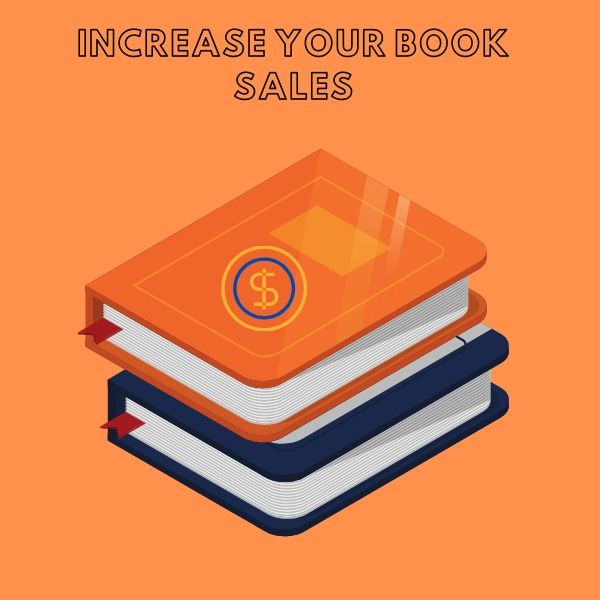 Guest Post
by Dave Chesson
You've written a book and you want nothing more than to publish it and get some sales. Or you've already published and you're not seeing the sales you wanted or expected. Unfortunately, selling books often isn't as simple as that old adage, "If you build it, they will come."
That's why we're going to take a look at 5 ways you can increase your book sales that are easy, and in the case of the first four on the list, cost effective.
In this article you will learn:
How to do genre research to better position your books
What resources are the best for refining your blurb
Where you can format your book description for Amazon
How to ensure you're ranking in the correct categories
What author swaps are and how to use them
Why Facebook ads are a great tool for authors
Let's dive right in!
1. Get The Right Cover For Your Book
Here's a painful truth: People do judge books by their covers. In fact, readers in specific genres are often on the lookout for covers that match their expectations. What does this mean? Well, you might be driving readers off instead of attracting them if you don't have the right cover for your genre.
The easiest way to make sure your cover is best positioned to attract those readers is by researching. If you're writing in Urban Fantasy, say, you'll want to pull up that particular genre on the Kindle Store by navigating to the category in the sidebar. Check out the screengrab I took below: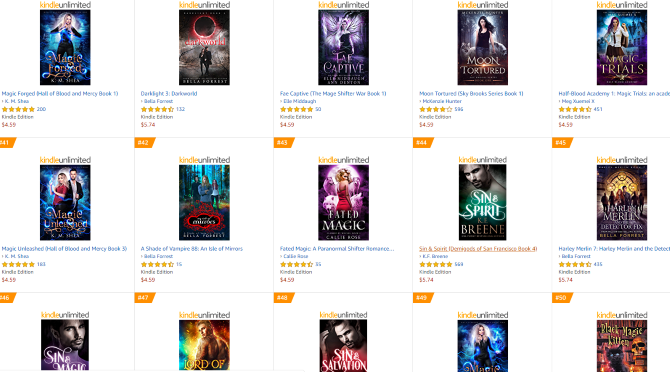 Just a quick sampling of the top covers in the genre tells us that butt-kicking women are popular, and that covers should have elements of fantasy or magic in them. They also have hard-hitting titles. Magic, Battle, and Retribution are power words that will attract readers who enjoy the genre. Usually, there's also a color theme in these books–I'm seeing a lot of blue here.
Try it out for your genre and collect your results! Once you're sure you've got the right idea, redo your cover or create a new one. You can do this yourself using BookBrush or Canva (if you're on a budget) or hire a designer if you're not–a quick search on Facebook will show you several designer Facebook groups to check out.
2. Rewrite Your Book Description 
Another great way to increase your book sales is by rewriting your blurb–your description is often the make or break moment when it comes to conversions. Readers really do read them. Similar to the cover research above, you can select a few of the top books in your genre and check out what their blurbs look like. Ask yourself a couple questions to better drill down what they're doing right:
Is the book description written in past or present tense?
Are there common themes?
Whose Point of View (POV) is the blurb in?
What common power words are there in the blurb? (Magic, power, quest etc.)
What is the hook? Eg. A bounty hunter on the run from the magical powers that be.
How long is each blurb? What does the spacing look like?
Once you've got this information noted down, you're in a better position to better write your blurb and position your book. The actual act of writing the blurb can be a pain in the neck–we've all been there. It's not easy to distill your book down into a couple short paragraphs.
Thankfully, there are amazing resources out there that teach you exactly how to do that. One of them is Bryan Cohen's awesome book, How to Write a Sizzling Synopsis. The instructions within are easy to follow and they really will improve your copywriting skills. Another great resource is Adam Croft's course Writing Killer Hooks and Blurbs. Both of these authors are bestsellers in their genres and renowned for their ability to sell books.
3. Make Sure You've Picked The Right Categories
Some authors might not know that the categories they pick when uploading their book to the KDP dashboard are only a small selection of the categories they can rank in. You can actually put your book in up to 10 categories. And pushing your book higher in the smaller categories will help your book's visibility.
But how do you find the least competitive categories? You can find that out by researching all the categories that might be relevant to you, checking the sales rank of the #1 bestselling book and the #10 best selling books then using Kindlepreneur's Amazon Sales Rank Calculator to figure out how many books they sell a day. That way, you can work out how many books you would need to sell to rank that high in the category.
Or you can use PublisherRocket, a software I created to help authors find better keywords, categories, and analyze their competition.
Once you're sure you want to rank in the category, you'd simply copy the category string and shoot a quick email to Amazon via AuthorCentral.
Here's what a category string looks like:
Kindle Store > Kindle eBooks > Teen & Young Adult > Science Fiction & Fantasy > Fantasy > Paranormal & Urban
Remember, you can select up to 10 categories! Be sure to select the most relevant ones to your book, and those that are least competitive.
4. Do Author Swaps  
Author newsletter swaps are a fantastic way to get more visibility and more sales as a result. Swaps are when two authors agree to include each other's books in their newsletters. This can be a great way to get exposure for your book and return the favor to another author.
A few rules to abide by when doing author swaps:
Only commit to a swap if you're sure you can do it on that said date. Most swaps are done in good faith and failing to send out your swap partner's book will leave a bad taste in their mouth and negatively affect your reputation with other indies in the future.
Prioritize other authors in your genre. If readers buy your book, and the author you swapped with writes Vietnamese cookbooks or something that's not in your genre, you might end up with strange Also-Boughts (i.e. the section that reads "Customers who bought this item also bought."). You don't want that as it will confuse Amazon.
Be polite. That's just a great rule in general, but it's particularly true when it comes to business. Being an author is a business and treating it as such is a good idea.
Don't do too many swaps in an email or in a row. You don't want to spam your faithful readers with other authors' books. They signed up to hear more about you, so there might be a disconnect there if you're constantly promoting other people's work.
If this all sounds a little intimidating to you, never fear, there's an awesome free tool called StoryOrigin that brings authors together to help them organize swaps. With it, you can join another author's swap, see how large their mailing list is and what their clickthrough rate is, as well. Granted, you'll need a mailing list of your own if you're going to do this, but there are a few authors out there who don't mind shouting out a newbie at the beginning of their career.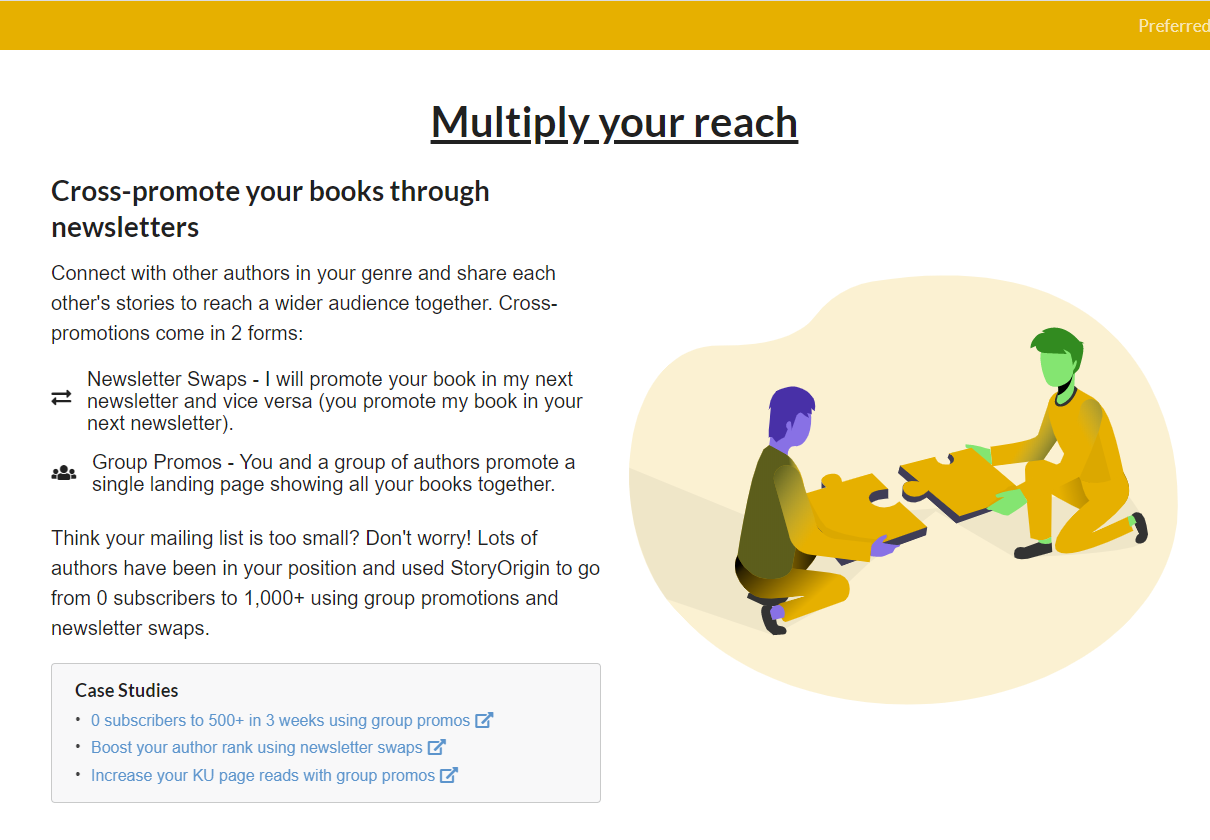 5. Test Out Facebook Ads 
I've put this last for a reason: Facebook ads aren't for the faint-hearted and you will have to spend a bit of money if you want to get them right. Facebook ads require a bit of testing, but once you do succeed, you'll see a definite upswing in your sales.
There are several ads you can use to target your readers when starting Facebook ads, but the simplest are probably traffic ads. Basically, it's about driving traffic to your website or book using an attractive picture and copy.
If you plan on setting up a Facebook traffic ad for your book, you will need:
A creative image with very little text that will draw readers in. It should be 600x600px in size. You can use canva.com to create one. If you want to see what other authors in your genre are using as their creatives, check out the Facebook Ads Library.
Your copy–an attention-grabbing headline. Short copy that entices readers to check out your book, focusing on your hook.
Your Amazon book's sales page link.
A budget of between $3 to $5 per day–as far as I know, you can't go much lower than this and create an effective ad.
A can-do attitude. You're not going to get a great CPC first-time around (or maybe you will and that's awesome). There's a learning curve.
You can learn more about the ins and outs of Facebook ads and understanding whether you're making a profit by checking out Malorie Cooper's insightful book, Help, My Facebook Ads Suck! 
And if you've got money to spend, Mark Dawson's "Ads for Authors" course is an invaluable tool that will teach you everything you need to know about advertising your book.
Final Thoughts 
By taking a few extra steps, and spending a bit of time or money, you can increase your book sales and reap the rewards: A positive ROI and a growing reader fanbase. Best of luck.
Cheers!
---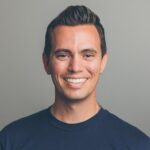 Dave Chesson is the creator of Kindlepreneur.com, a website devoted to teaching advanced book marketing which even Amazon KDP acknowledge as one of the best by telling users to "Gain insight from Kindlepreneur on how you can optimize marketing for your books." Learn more about Dave and his free Amazon ads course at Kindlepreneur.com.