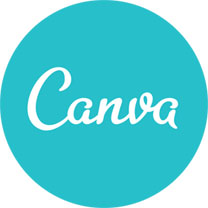 Canva, an online graphic design site for do-it-yourselfers, offers hundreds of free design options for writers. You can create your own Facebook covers, YouTube channel covers, business cards, twitter headers, posters, flyers, menus, invitations, album covers, and, most importantly, eBook covers.
Let's make an eBook cover right now.
After you sign up for your free account, the link above will take you to the screen below, where you have the choice of checking out their blog (red arrow), their tutorials (blue arrow), and their training materials (black arrow). Because I'm rarely one to read directions, I skip straight to "Start Designing" (purple arrow).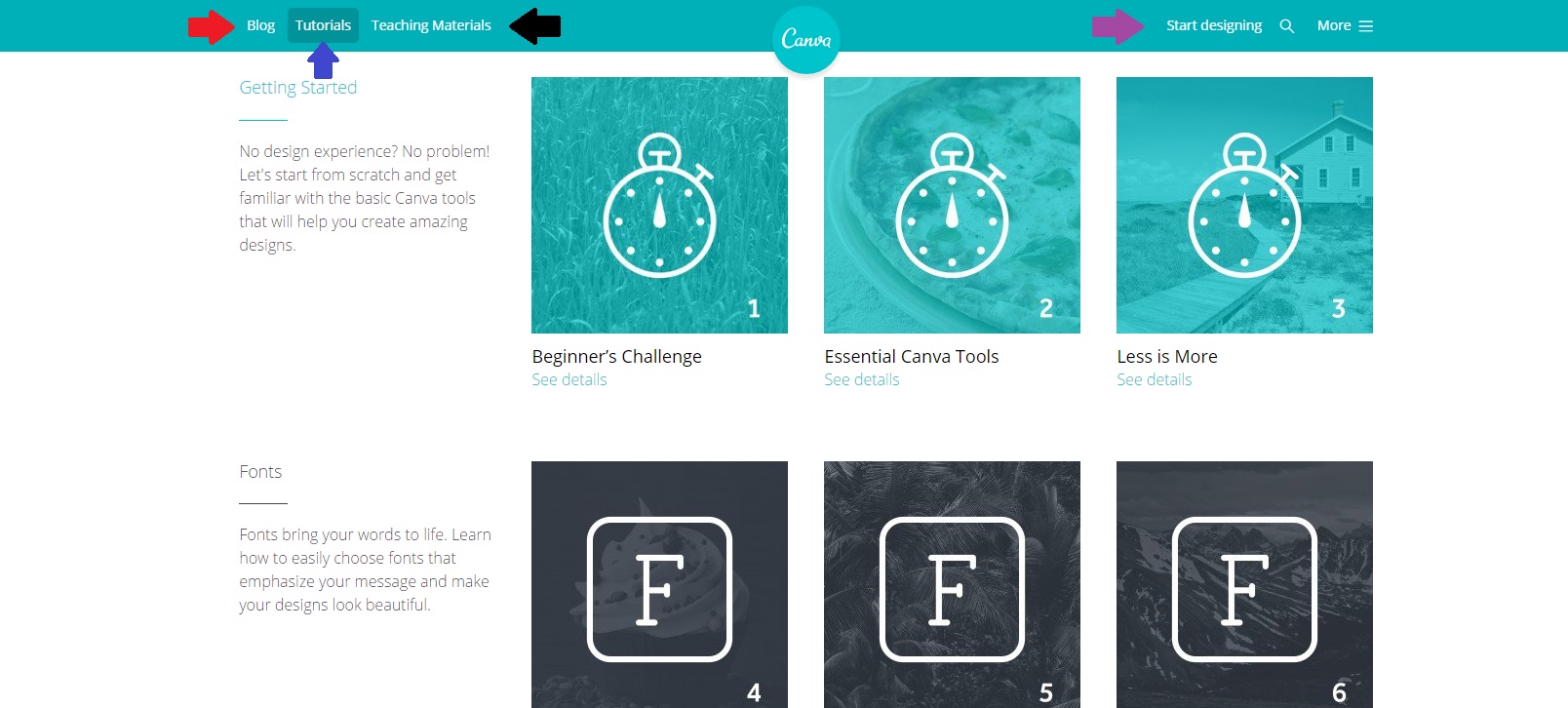 That takes me here, but those aren't the design templates I want, so I click on "More" (red arrow below).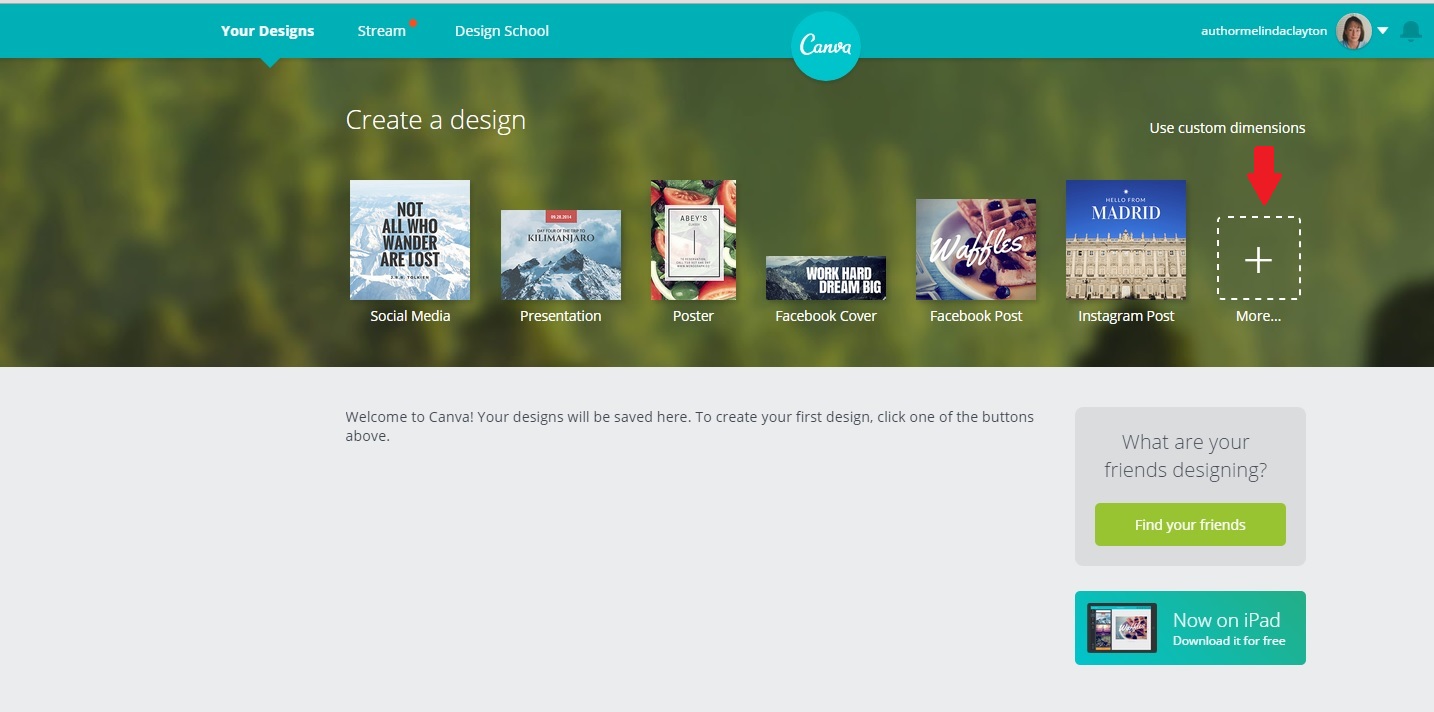 Scroll down and you'll see "Kindle Cover" (red arrow).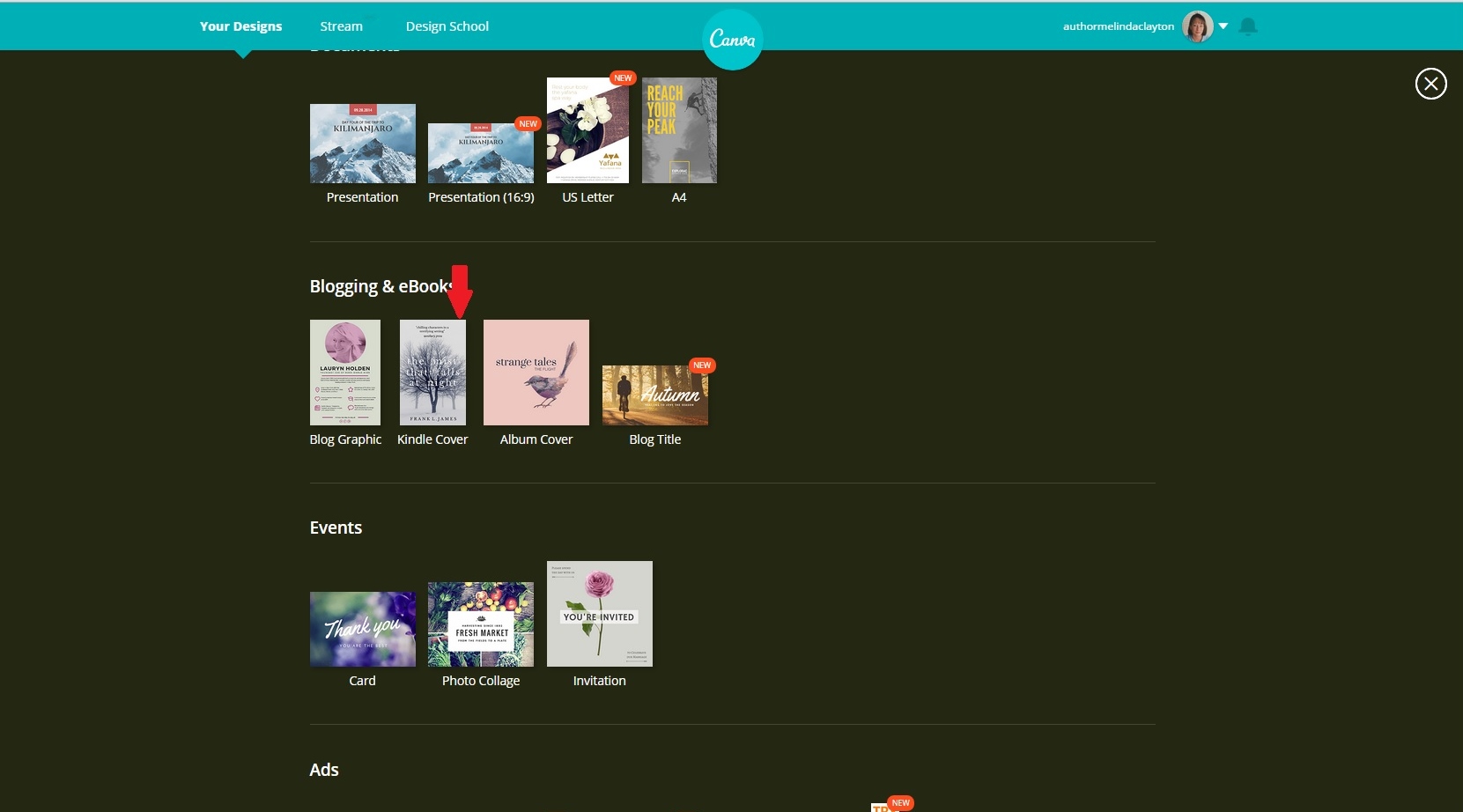 When you click on that, it will bring you to a page full of templates (they use the word layouts). If you don't want a template and want to wing it on your own, look at the toolbar on the left. You can choose to search for an image on Canva (red arrow), choose one of their ready-made layouts (green arrow), choose to add text (blue arrow), choose a background from colors and textures (yellow arrow), or choose to upload your own graphic (purple arrow). The possibilities are endless.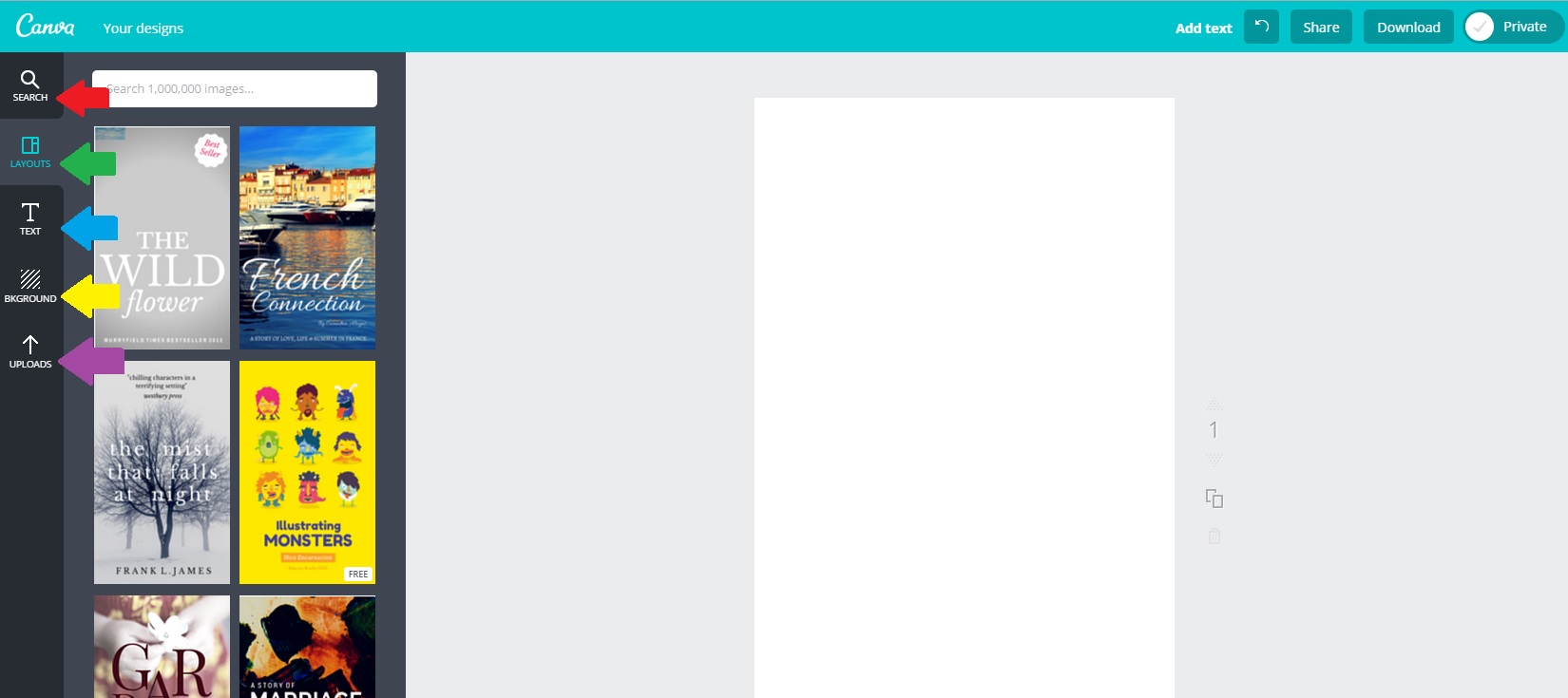 In order to give a quick demonstration, I decided to use one of their layouts (orange and blue arrows below).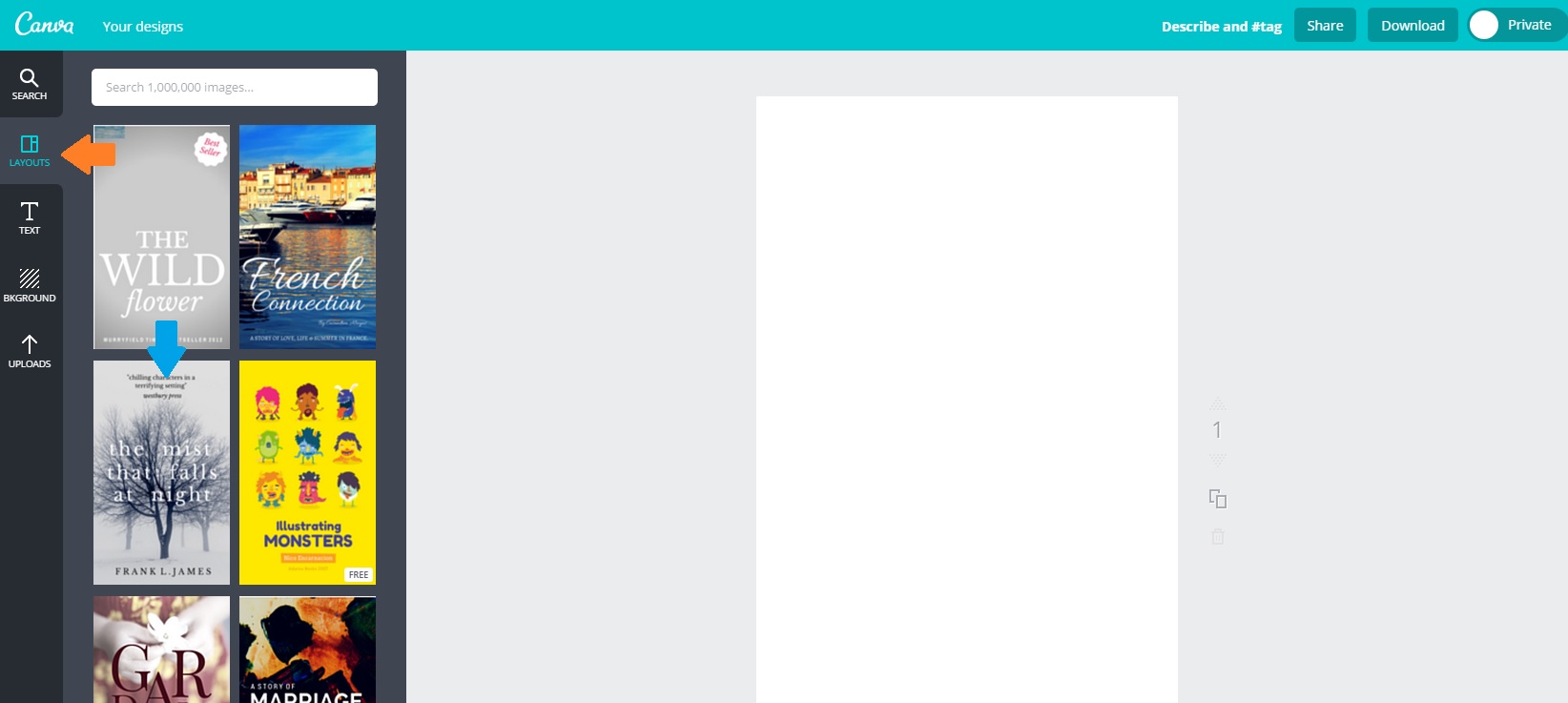 Remember, if you go with this option you're only choosing the layout here, not the photo. To make sure you don't keep the photo, Canva covers it with a grid.
Now that I have the layout I want, I need to choose what to put in it.
Click in the Search screen (red arrow below) and you can search hundreds of graphics for your cover design:  grids, frames, shapes, lines, illustrations, icons, photos, and/or charts.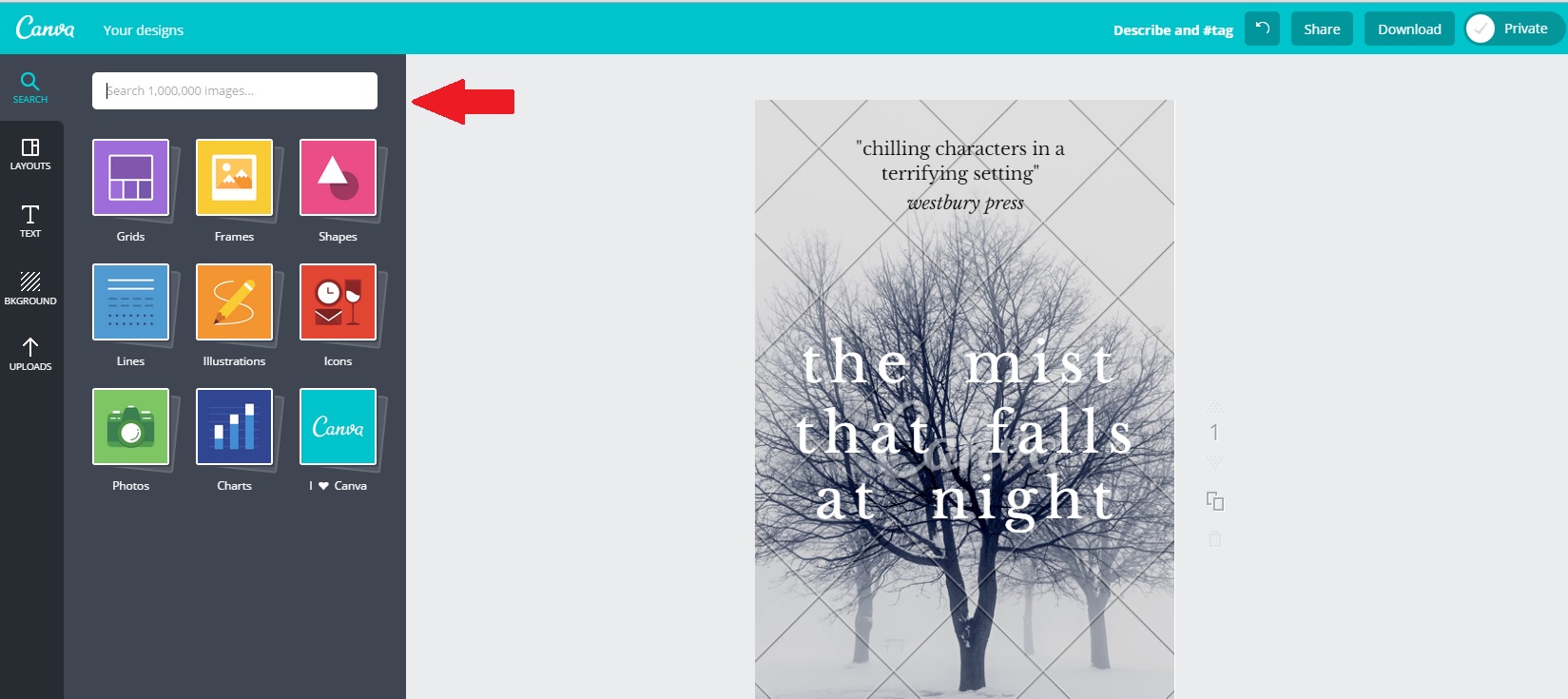 As far as I can tell (after scrolling and scrolling), grids, frames, shapes, lines, icons, and charts are all free. Quite a few illustrations are free, and some photos are free, as well. Those that aren't free cost $1.00.
I wanted a photo for my cover, so I chose "Photo," typed "ocean" into the search bar, and found a free photo. I clicked, and it jumped over onto my layout. Make sure to delete the original image, otherwise Canva will ask you for $1.00/
Maybe you don't want the photo to cover the entire template; maybe you want to fill in the background with one of the previously mentioned colors or textures. If that's the case, you can stretch the photo from any of the four corners (orange arrow below) to size it the way you want. Be aware that when you do this, it may end up covering up the lettering for the title (purple arrow below). If this happens, click "Back" on the little tool bar above the photo (green arrow below), and that will send the photo behind the words. Keep clicking back until all the text is on top.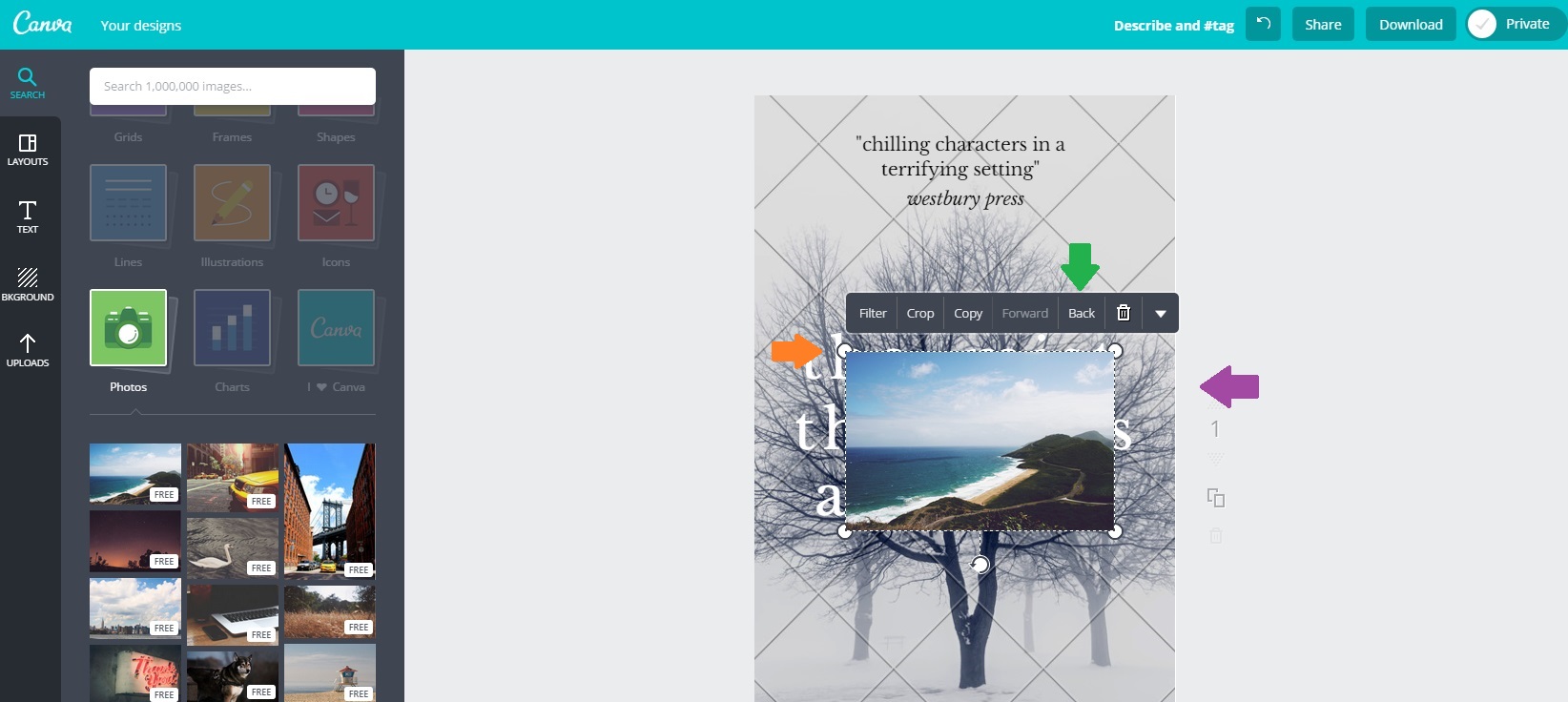 If you want the photo to cover the entire template, as I did, left click your mouse and start to drag the photo. When you do that, it'll automatically cover the entire template and go behind the lettering.
I have my background photo; now I need to add my title. Click on the first line of text you want to change, and you'll get a toolbar that lets you change font style, size, and color (red arrow below).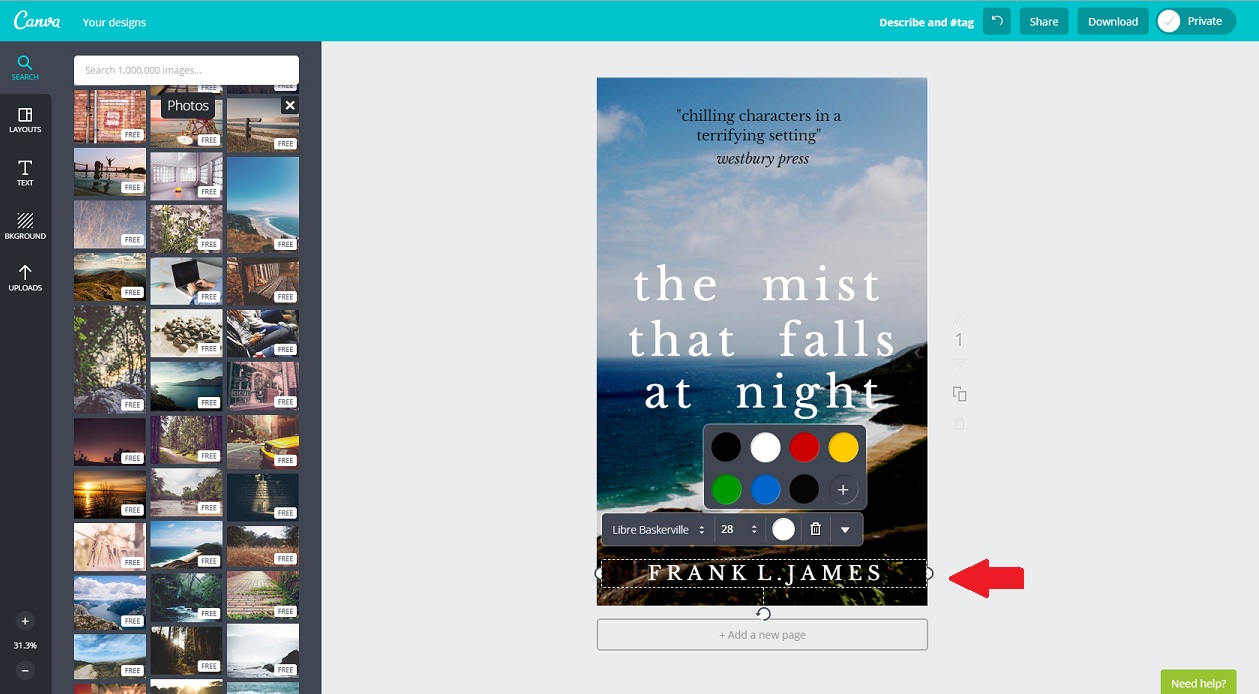 If you need to move the title to a different position, left click the mouse and drag it to the location you want. If there's a line of text you don't need, click on the little garbage can on the toolbar and it will be deleted.
Once you've got everything the way you want it, you're ready to download to your own computer. Canva lets you download as either a jpeg or a pdf (red arrow below). If at any point in the process you need help, click the green "Need help?" button on the bottom right of the screen (blue arrow below) and you'll be taken to a "Help" page with a handy "Contact Us" button just in case you can't find the answers you need.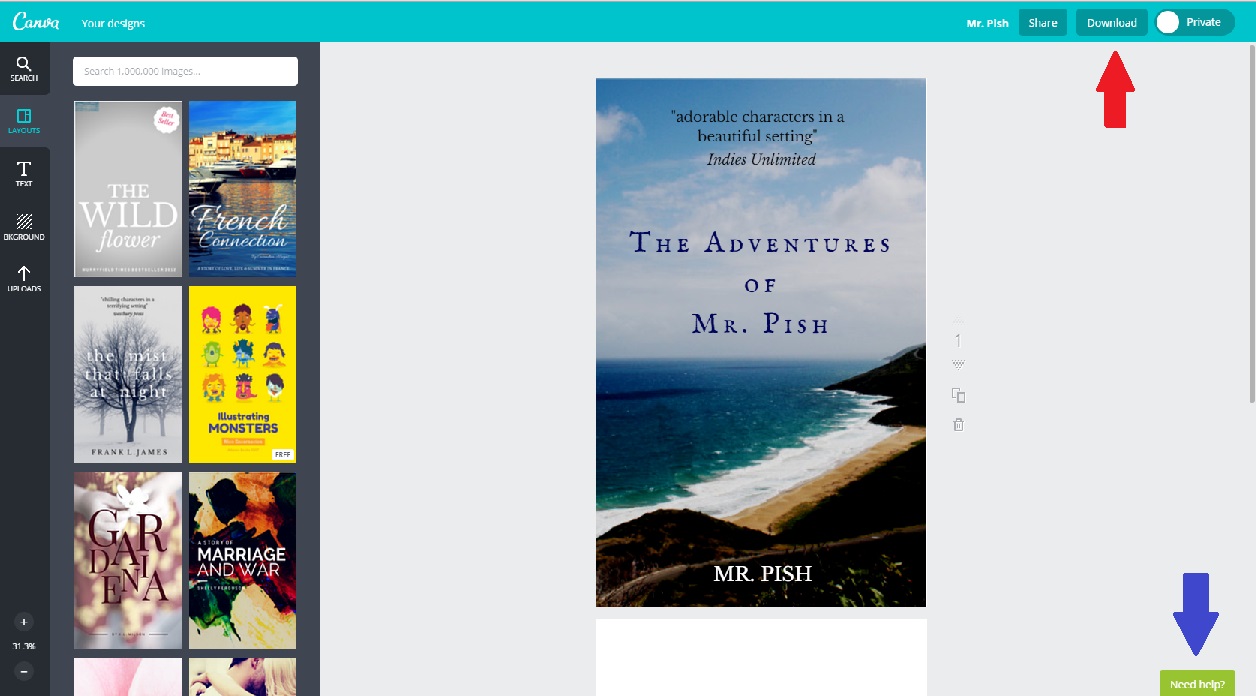 Finally, the end result: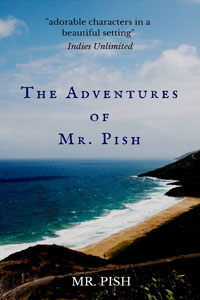 Quick, easy, and free. You can't beat that.