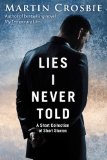 Today we have a sneak peek from the new collection of literary fiction short stories by Martin Crosbie: Lies I Never Told.
Martin Crosbie, bestselling author of "My Temporary Life", presents us with a glimpse into the rear-view mirror of life. Crosbie's writing is so quiet that when the crash comes you suddenly realize you've been gripping onto the edge of your chair, living the story along with the main character. In this intensely personal collection, he writes about relationships, sex, children, guilt, and sometimes, the absence of guilt.
Lies I Never Told includes four new, original stories, one previously published short story, and the first chapters of his bestselling novel "My Temporary Life" and the follow-up "My Name Is Hardly".
Lies I Never Told is available at Amazon.com and Amazon UK.
Here is an excerpt from Lies I Never Told…