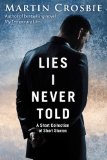 Today we have a sneak peek from the new collection of literary fiction short stories by Martin Crosbie: Lies I Never Told.
Martin Crosbie, bestselling author of "My Temporary Life", presents us with a glimpse into the rear-view mirror of life. Crosbie's writing is so quiet that when the crash comes you suddenly realize you've been gripping onto the edge of your chair, living the story along with the main character. In this intensely personal collection, he writes about relationships, sex, children, guilt, and sometimes, the absence of guilt.
Lies I Never Told includes four new, original stories, one previously published short story, and the first chapters of his bestselling novel "My Temporary Life" and the follow-up "My Name Is Hardly".
Lies I Never Told is available at Amazon.com and Amazon UK.
Here is an excerpt from Lies I Never Told…
We become thirty and then forty and we divorce and re-marry and visit our children on weekends, and work at jobs we never dreamed of doing, and have too many relationships with people we don't like, and on the outside we look like any other forty-year-old hero. We're not though, because it never goes away. No matter how hard we try to hide it, inside we're still seventeen, sitting at the river, looking for the girl with the brown eyes.
We reconnected the same way everybody does. I clicked on an ad for a website I'd never heard of – school crushes dot something or other – and a random search found her sitting at her computer, living in the same little town I broke out of, and me a hundred miles down the road, sitting at mine. All these years, a hundred miles apart, missing each other as we walked into stores at different times and attending our children's sporting events in the same cities, always at the wrong time.
We talked through our computers, typing away to each other. And, late at night, when the clock ticked over and a new day began, our online conversations reached a different level of intensity. They became more honest. Maybe we felt as though someone might have been listening earlier, but when the day really switched off, and her family was truly asleep and my other half was out working her night shift, we'd say things we'd only been thinking about earlier. I told her I hadn't been looking for her, but then again, maybe I'd been looking for her all my life. She liked that. I could tell by the way her words paused before appearing on my screen. And then, she didn't answer with a long explanation or a quick jab. She typed "Me too," and it was the loveliest thing anyone ever said to me.
She had young children, a husband, a life, still in our high-school town. It didn't matter. It was easy to hide our new relationship. We'd arrange times when we were going to speak online. The phone wasn't safe and again our little world was perfect without taking that next step. Everything was perfect as each of us sat at our computers. I had the luxury of being alone most evenings and instead of typing out words, trying to write the novel I knew was still in me, I'd talk to her. My partner would see me in the mornings and say how proud she was that I was finally getting some work done, committing to my dream. But I wasn't writing. I was talking to the girl from twenty-five years ago who was sitting a hundred miles down the road. And, as she too sat in the darkness analyzing her life now and then, I didn't ask how she found time to talk to me without her husband, her family, finding out. She never volunteered the information, and I didn't want to know.
---