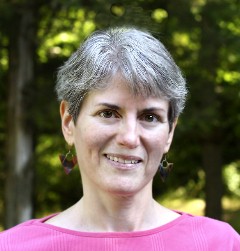 We are very pleased to announce that Indies Unlimited has added the multi-talented  Laurie Boris to the staff. She is a freelance writer, editor, proofreader, and former graphic designer with a long history of ignoring housework and pots on the stove to sneak in "just a few more pages" of her novels. She has had her short fiction published in small magazines and on the Web. Her first novel, The Joke's on Me, was published through small press 4RV Publishing, LLC in 2011. Her second, Drawing Breath, will be self-published soon. A genre-bender and a lover of the character-driven story, Laurie plans to continue writing more tragicomic sagas, some darker than others. I expect she'll draw plenty of inspiration from her experience here.
When not playing with the universe of imaginary people in her head, she enjoys baseball, cooking, reading, and helping aspiring novelists. She lives in New York's lovely Hudson Valley with her very patient husband, Paul Blumstein, a commercial illustrator.
Learn more about Laurie at http://laurieboris.com.
Please welcome Laurie to the all-star staff of Indies Unlimited.
[subscribe2]