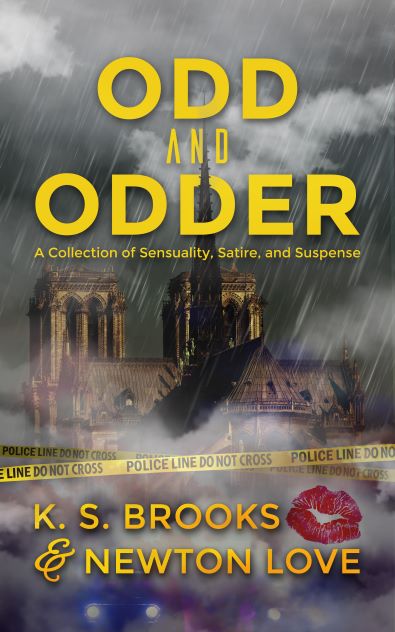 Today we have a sneak peek from the eclectic collection by authors K. S. Brooks and Newton Love: Odd and Odder: A Collection of Sensuality, Satire, and Suspense.
Odd & Odder: A Collection of Sensuality, Satire & Suspense brings together the creative, off-beat minds of published authors K. S. Brooks and Newton Love. From short stories befitting The Twilight Zone, to lustful verses of poetry, to thought-provoking flash prose: Odd & Odder is consistently fresh, sometimes outlandish, and truly entertaining. A total of 22 original works and two bonus excerpts from the authors' novels are included, providing something for readers of all tastes.
Odd & Odder is available from Amazon, Amazon UK, Smashwords, and Barnes & Noble.
And now, an excerpt from Odd & Odder…
From the short story Dark Alley
I rubbed at my chin in thought. The stubble bristled under my fingers. I've got a rugged, manly chin with strong, manly stubble. Try one of those television commercial close shave credit card tests on this stubble and you'd have plastic shavings on the floor. My stubble doesn't mess around. It means business. And so do I.
And right now my business was trying to figure out who stole my client's car. It was a Mercedes, one of those German rocket-ships made out of leather and steel. Well, maybe not steel. I don't think they use much steel anymore. I would imagine that would really screw with the gas mileage, and the cost of the vehicle. But it was a Mercedes, so it was expensive, although she wasn't really that concerned with the car itself. She was very despondent over its contents that were missing as well. That'll happen when a car disappears, the contents tend to disappear. In this case, the contents just happened to be her husband.
Poor dame, it hit her hard, threw her for a loop, sent her into a spin and basically knocked her on her ass. I told her straight up, up front, that sometimes, if someone doesn't want to be found, you're not going to find them. But she insisted I try. I told her she should think about it, and she said she already had, so I told her I would think about it, but when she whipped out that stack of Grover Clevelands, I told her I had a really really fast thought process and I'd take the job. I love presidents. Especially presidents on green paper with three zeroes behind the one. There was definitely more going on here than just a missing Mercedes with a husband in it.
I'm no moron. A thousand dollars can buy a lot of lasagna. And man, can that Rita cook a mean lasagna. So if this dame wants to pay me to find her husband, I'll put it through the motions, and I'll give it my best shot. I'm not even sure I believe her story of how she got my number. But whatever, you just keep those Grovers coming my way, Honey.
…Did she really want to find her husband or just make it LOOK like she wanted to find him? I wasn't convinced. She hadn't filed a police report on the car or the husband. I never took much of an interest in Math, but you don't need to know geometry to see that this equation was not adding up.
---