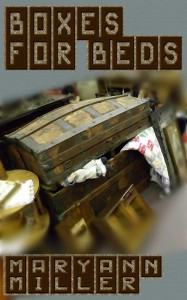 Today we have a sneak peek from the historical mystery novel by author Maryann Miller: Boxes for Beds.
Leslie Richards, author and single mother, moves from New York to the sleepy town of Pine Hollow Arkansas to get away from a past she's hoping to forget. Forgetting becomes impossible when the local sheriff decides she's a prime suspect in the kidnapping of a baby, and her secrets are threatened in this historical mystery set in 1961. Sheriff Bates doesn't trust northern do-gooders who have "Come to tell us how to treat our …" and bows to pressure from the mob that controls Hot Springs. Will Leslie get railroaded for a crime she did not commit? Can she forgive Ronald for walking out on her?
Boxes for Beds is available from Amazon and Amazon UK.
And now, an excerpt from Boxes for Beds…
Prologue
January 1936
"Hush little baby, don't you cry … " The plaintive melody whispered in the otherwise resounding silence.
One small candle flickered atop the dust-¬encrusted chest of drawers, the feeble light unable to dispel the gloom born of the murky darkness. The yellow flame wafted in a sudden draft, casting macabre patterns on a precarious stack of old boxes supported by an intricate network of cobwebs. The pale light briefly touched a figure hunched over an open trunk.
The figure loomed more like a shadow than a real person and reached out a hand to lightly trace the features of the tiny bundle nestled within the trunk's musty interior.
"Would you listen to me? Singing to a doll-baby just like you was real."
Wide, unblinking eyes stared back.
"Sometimes I wish … but no. It's better this way. If you was was real, then I'd have to tell you to hush for sure. The Man don't let me play with no real babies. Says I might hurt 'em. But he don't know. I can be real gentle. Ain't my fault those others broke. You ain't gonna do that are you?"
Silence.
**********
Chapter One
March 6, 1961
Leslie Richards sat on the ground, idly picking at the strands of dry grass beside her. No sign of green yet, not even in Pine Hollow, Arkansas. Not that she really expected it. Early March is still winter whether in Arkansas or New York, but at least the breeze blew a little warmer here. She definitely wouldn't be sitting on the ground if she were still in New York.
Easing herself against the thick trunk of the old oak, which stretched leafless branches high into a shimmering blue sky, Leslie thought of how her agent had reacted to the news of her impending move. Merrill had stolen the response Leslie had expected from her parents.
"What on earth do you want to leave New York for?" Merrill rolled a well-chewed pencil between her slim fingers, staring at Leslie in frank astonishment.
"You're the one who keeps telling me a writer should be well-traveled. Let's just say I'm broadening my horizons."
"Some podunk town in the South is hardly what I had in mind."
"That 'podunk town', as you so colorfully put it, is part of my heritage. My grandmother was raised there. I can reconnect with my roots."
"Right. Like that's been a burning issue in your life." Merrill flashed one of her lopsided smiles. "I think you're holding out on me, kid."
"Oh, Merrill," The tears Leslie had vowed not to burden her friend with welled in her eyes and spilled unbidden down her cheeks. "Everything's such a mess. Since Ronald … I can't think. I can't work."
---