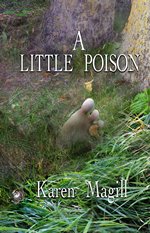 A Little Poison
by Karen Magill
Genres: horror, occult, paranormal
Available from Amazon.
Julie and Santoro are back. This time the couple find the body of one of Vancouver's prominent citizens in Stanley Park. As they investigate the crime, they are drawn into a world where nothing is what it seems and the two discover A Little Poison goes a long way.