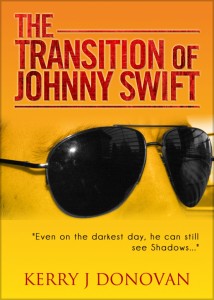 The Transition of Johnny Swift
by Kerry J Donovan
4.9 star average on 17 reviews
290 pages
Before the accident …
Frank Brazier has the perfect life. A contract to drive for a Formula 1 team. A supportive family. A stunning girlfriend. On the surface, everything is great, but Frank keeps a secret. On race days, Shadow-man visits. He sits on the nose cone of Frank's racing car, or floats above the grandstand, waving taunting, distracting, eating away at his concentration. An accident in the making.
After the accident …
Frank starts hearing voices. Strange voices. Impossible voices. He's losing his grip on reality and Paula, his sister, is dying. Doctors say she is brain dead. They want to pull the plug, but Frank knows she's still in there, fighting. He can hear her calls. Shadow-man finally speaks. He says Frank can save Paula, but can Frank pay the price?
The Transition of Johnny Swift is available from Amazon.com and Amazon UK.
Excerpt from The Transition of Johnny Swift by Kerry J. Donovan: Continue reading "Saturday Book Showcase: The Transition of Johnny Swift"