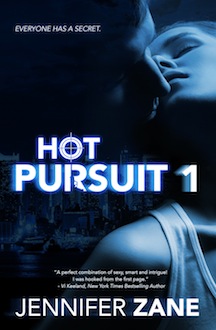 Hot Pursuit 1
by Jennifer Zane
Genre: Romantic Suspense
36,000 words
A fun weekend at a friend's wedding in Denver takes a bizarre twist for Anna Scott when her rental car is pulled over due to an "anonymous tip." In her trunk…one dead body linked to warring crime families. It should be easy for an innocent woman to be cleared of an random mix-up. But was it? The police aren't so sure, and neither is the crime boss who wants vengeance for his son-in-law's death.
Jake Griffin is playing a dangerous game, having spent the last few months undercover in the Moretti crime family. Moretti assigns him to find out who Anna Scott is, what she wants, and to kill her if she's a threat. Jake needs to focus on taking down Moretti, but he can't stop thinking about Anna, nor can he stop taking dangerous chances where she's concerned. The most dangerous of all might be trusting her with the truth.
Hot Pursuit 1 is available through Amazon.com and Amazon UK.