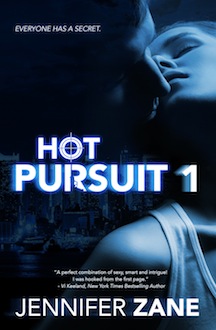 Hot Pursuit 1
by Jennifer Zane
4.6 average rating from 8 reviews
105 pages
A fun weekend at a friend's wedding in Denver takes a bizarre twist for Anna Scott when her rental car is pulled over due to an "anonymous tip." In her trunk…one dead body linked to warring crime families. It should be easy for an innocent woman to be cleared of an random mix-up. But was it? The police aren't so sure, and neither is the crime boss who wants vengeance for his son-in-law's death.
Jake Griffin is playing a dangerous game, having spent the last few months undercover in the Moretti crime family. Moretti assigns him to find out who Anna Scott is, what she wants, and to kill her if she's a threat. Jake needs to focus on taking down Moretti, but he can't stop thinking about Anna, nor can he stop taking dangerous chances where she's concerned. The most dangerous of all might be trusting her with the truth.
Hot Pursuit 1 is available through Amazon.com and Amazon UK.
Excerpt from HOT PURSUIT 1 by Jennifer Zane
"Your lady friend. Got some more information. Or lack of."
"Which is it?" I tried to clear the fog. "Who the hell is my lady friend?"
"Anna Scott."
I perked up a little at her name, as if Peters had given me a cup of coffee to go with his news.
"What about her?" Hearing her name only made me even more surly. The woman had the gall to come to the bar and tell me Moretti owed her. Like I was payment or something. "Didn't she get on her plane yesterday?"
"TSA says she did. Works for me. That's not why I'm calling. We pulled her record for the interview on Friday, but only did a cursory glance. We knew pretty fast we couldn't pin her for Bobby Lane."
"You mean when she cleared herself." I rolled onto my back, tossed an arm over my eyes.
Peters coughed. "Whatever. I did a more thorough search of her, just to close her out as a suspect. Her record is blemish free. Nothing on it. I dug a little deeper out of curiosity. Her background check shows she graduated from Harvard. Her work history starts seven years ago."
"I'm not hearing anything interesting yet." I sighed. "Get to the good stuff. You wouldn't have bothered me otherwise."
"Bought a pretty pricey apartment in New York right before she started Harvard. In cash."
I dropped my arm, stared up at the dark popcorn-textured ceiling. "What else?"
"Where did that kind of money come from? Harvard doesn't come cheap. No student loans. Paid in full. I checked her bank balance. She has checking and a savings account. Not enough dough in there to match a cash real estate purchase. In Manhattan. So I pulled her social." I had an idea what he was going to say, but the man was on a roll and I was wiped, so I let him talk. "No hits on that social security number until Anna was eighteen. No passport, no teenage job, no college fund."
"Parents' tax returns? Kids are a real nice tax credit, but you've got to list the social."
"Nothing. Like I told you on Friday, records say her mother died when she was six, father kicked the bucket when she was eighteen. Bob and Mary Scott. Nothing pops about their deaths. Nothing pops about them, period."
"Bob and Mary?" Those were some pretty bland names. "Maybe just simple, law-abiding citizens who weren't on our radar," I said. I didn't believe it and I knew Peters didn't either. "The money could've come from their wills." I flicked on the bedside lamp, swung my legs over the side of the bed. Sat there in my boxers and considered.
"Even then, and with that amount of money, she'd need a bank and it would be tied to a social security number. It's not like she'd have stacks of cash under her mattress."
"Someone could have paid her college tuition and we'd never know. Maybe a family friend. But her apartment? What about birth certificate?"
"None I've found," Peters replied. "Her license says Anna Louisa Scott. What I've shared matches that name, that home address."
"School records before college? She had to go to high school somewhere. Had to have a very serious transcript to get into Harvard."
"Nothing. I can't pump Harvard admissions for her records without a warrant. We both know that's not going to happen."
Peters and I were both curious about her, more now than ever, but curiosity wouldn't get us a search warrant.
"Fingerprints?"
"Zilch."
"She knew she wasn't in the system and wanted to stay that way. That's why she didn't touch the soda. Without the fingerprints, it's like she doesn't exist," I said, rubbing my whiskers. "If she's not Anna Scott—"
"Then who the hell is she?" Peters finished.