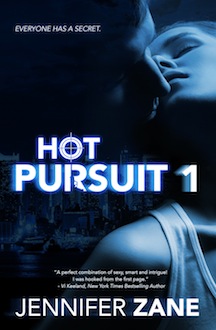 Hot Pursuit 1
by Jennifer Zane
Genre: Romantic Suspense
36,000 words
A fun weekend at a friend's wedding in Denver takes a bizarre twist for Anna Scott when her rental car is pulled over due to an "anonymous tip." In her trunk…one dead body linked to warring crime families. It should be easy for an innocent woman to be cleared of an random mix-up. But was it? The police aren't so sure, and neither is the crime boss who wants vengeance for his son-in-law's death.
Jake Griffin is playing a dangerous game, having spent the last few months undercover in the Moretti crime family. Moretti assigns him to find out who Anna Scott is, what she wants, and to kill her if she's a threat. Jake needs to focus on taking down Moretti, but he can't stop thinking about Anna, nor can he stop taking dangerous chances where she's concerned. The most dangerous of all might be trusting her with the truth.
Hot Pursuit 1 is available through Amazon.com and Amazon UK.
Jennifer, how did you come up with the title for your book? Does it have any special meaning?
Jake is intrigued with figuring out Anna's secrets. She's a puzzle he has to solve, so he's relentless, but really, it's love at first sight for him and he just doesn't realize it right away. He's pursuing her because he can't live without her.
Who was your favorite character and why?
Jake/Nick because he recognized what he wanted (Anna) and did everything he could to have her.
Does your book have any underlying theme, message, or moral?
The past will continue to haunt you until you find closure.
What would/could a reader or reviewer say about this book that shows they "get" you as an author?
Jennifer Zane proves that emotions drive actions. Everything Nick and Anna do are based on their feelings, not only for each other, but their reactions to the past as well.
Give us an excerpted quote from your favorite review of this book:
"Great writing, fantastic storyline, and as always a heroine and hero who are easy to love. "
Where can people learn more about your writing?
www.jenniferzane.com