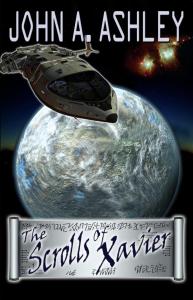 Today we have a sneak peek of author John Ashley's new science-fiction/action-adventure novel: The Scrolls of Xavier.
In order to shed light upon the dangerous secrets of the vast, new planet, Xavier997, Captain Michael Dawn must go across its globe to recover five ancient artifacts whose purpose and creators are unknown. The path to these items is wrought with every danger Xavier can throw at him, including the primitive, yet cunning tribes of aliens that defend them. If he cannot overcome these challenges then the Scrolls will never be found.
Without the Scrolls, Xavier will be lost. With them, it might be even worse.
The Scrolls of Xavier is available from Amazon US, Amazon UK, Barnes and Noble and Smashwords.
Here is an excerpt from The Scrolls of Xavier: Continue reading "Sneak Peek: The Scrolls of Xavier"