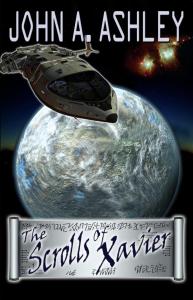 Today we have a sneak peek of author John Ashley's new science-fiction/action-adventure novel: The Scrolls of Xavier.
In order to shed light upon the dangerous secrets of the vast, new planet, Xavier997, Captain Michael Dawn must go across its globe to recover five ancient artifacts whose purpose and creators are unknown. The path to these items is wrought with every danger Xavier can throw at him, including the primitive, yet cunning tribes of aliens that defend them. If he cannot overcome these challenges then the Scrolls will never be found.
Without the Scrolls, Xavier will be lost. With them, it might be even worse.
The Scrolls of Xavier is available from Amazon US, Amazon UK, Barnes and Noble and Smashwords.
Here is an excerpt from The Scrolls of Xavier:
"Run!" I shouted.
The agonized screams of the captured scouts echoed in my ears as I forced my legs into a crazed sprint. Bizarre underbrush flew past me, ripping at my suit with their thorns. Our troop scattered like mice, tripping and stumbling through the rough alien terrain, trying desperately to escape their vicious attackers. All around me, I heard the clicking and hissing of the Scorpion tribe, followed by the short, muffled cries of their victims. My lungs felt like they were going to explode. My entire body was cramping up, but I kept running; slowing down meant death. Suddenly, the forest broke, giving way to a rocky ledge that jutted out over a sickening drop. I slid to a stop, coming so close to the edge that I sent pebbles and dust tumbling off. Whirling my rifle back towards the forest, I fired a volley of blind shots into the brush. The rounds zipped through the foliage, knocking down leaves and sending shreds of bark into the air. I heard the smack of a bullet impacting flesh, followed by the dying shriek of a Scorpion, then turned back to the ledge. Just as the first of the menacing creatures materialized from the bush, I jumped. Air rushed all around me, reminding me of the day I left for this hellish planet. I closed my eyes and clenched my teeth together, just before hitting the ground.
---