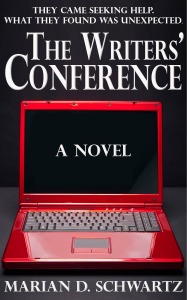 Today we have a sneak peek from author Marian D. Schwartz's literary fiction book, The Writers' Conference.
After Laura Belmont finishes writing her first novel, she enrolls in The Clymer Workshop, one of the oldest writers' conferences in the country, where she hopes to make a connection with one of the famous staff authors or a well-known literary agent. The atmosphere at the Workshop is unexpectedly intense. The male writers on the staff are more interested in having sex with Laura than in her manuscript. Staff members worry that their reputations may be at risk. As anxiety builds and hope dwindles, Laura thinks she's made a mistake. Then something extraordinary happens that makes her change her mind.
The Writers' Conference is available from Amazon.com, Amazon UK, Barnes & Noble, and Smashwords.
Here is an excerpt from The Writers' Conference… Continue reading "Sneak Peek: The Writers' Conference"